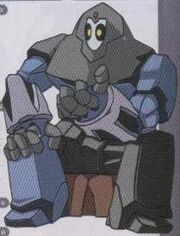 Daidara-bocchi (ダイダラボッチ, Daidarabocchi) is a demon in the series.
Daidara-bocchi was said to be a gigantic Yokai in Japanese mythology. His size was so great that his footprints were said to have created innumerable lakes and ponds. In one legend, Daidara-bocchi wanted to see which was heavier: Mount Fuji or Mount Tsukuba - and he weighed them on a great scale. However, when he was finished he dropped Mount Tsukuba, splitting its peak.
Appearances
Edit
DemiKids: Light & DarkEdit
"Colossal demon whose head reaches the clouds. None will dare tread in his path."
Known as Dydra in the game. Dydra can perform the Earth combo Bone Crush with Humba, Minotaur, and Dredogs.
DemiKids: Light & DarkEdit
| Class | Element | Type | Exp | Level | HP | MP |
| --- | --- | --- | --- | --- | --- | --- |
| General | Earth | Ogre | 343 | 29 | 321 | 122 |

| ATK | DEF | MGC | RES | SPD | LCK |
| --- | --- | --- | --- | --- | --- |
| 27 | 28 | 24 | 23 | 19 | 24 |
List of Skills

Skill
Element
Cost
Effect
Ram
Earth
15 HP
Small dmg. 1 Foe
Stone Shot
Earth
15 HP
Small dmg +ACC Down. 1 Foe
Earth Crush
Earth
20 HP
Medium dmg +DEF Down. 1 Foe
Charge
Earth
15 HP
Medium dmg +Self dmg. 1 Foe
Teleport
Light
10 MP
Teleport Party
Frenzy
Dark
20 HP
Hit x4. Random Foe
Devil Children Fire/Ice BookEdit
| Class | Element | Type | Exp | Level | HP | MP |
| --- | --- | --- | --- | --- | --- | --- |
| General | Earth | Ogre | 343 | 29 | 321 | 122 |

| ATK | DEF | MGC | RES | SPD | LCK |
| --- | --- | --- | --- | --- | --- |
| 27 | 28 | 24 | 23 | 19 | 24 |
List of Skills

Body Blow
Stone Shot
Ground Break
Totsugeki
Teleport
Ooabare