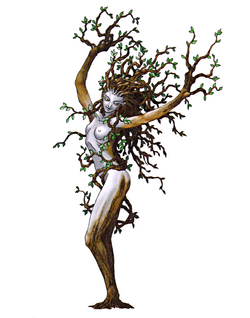 Daphne (ダフネ, Dafune)? is a demon in the series.
A Nymph and minor nature deity of Greek lore, she was pursued by Apollo who was in love with her. Begging her father or Gaia for help, they turned her into a laurel. She was the daughter of either the river god Peneus or the river Ladon. Another variation of the myth exists where Daphne is a mortal girl pursued by Apollo. In any version of the myth it ends with the laurel becoming sacred to Apollo.
Appearances
Edit
Shin Megami Tensei: Strange JourneyEdit
"A nymph of Greek lore who turned herself into a laurel to escape Apollo's pursuit. Affected by Eros' arrow, Apollo chased Daphne for days. When he had almost caught her, she prayed to Peneus, her father the river god, and was transformed into a laurel."
—Shin Megami Tensei: Strange Journey compendium
Shin Megami Tensei IV ApocalypseEdit
Daphne can teach Nanashi the Dia, Rakukaja and Makakaja skills through her Demon Whisper. She benefits from learning ailment, healing and support skills.
Shin Megami Tensei: Strange JourneyEdit
| Attack Type | | | | | | | | | |
| --- | --- | --- | --- | --- | --- | --- | --- | --- | --- |
| Single foe/1/Physical/None | - | - | Weak | - | - | - | Strong | Strong | - |
| Poison | Paralyze | Stone | Strain | Sleep | Charm | Mute | Fear | Bomb | Rage |
| --- | --- | --- | --- | --- | --- | --- | --- | --- | --- |
| 100% | Null | 100% | 100% | 100% | Null | 100% | 100% | 100% | 100% |
D-Source Skills
Dekaja
Resist Curse
-
Password
4P3WhTsN$PkT#PcT

z0tFdSsKdE3TdPqx
Shin Megami Tensei IVEdit
| Race | Level | HP | MP | ST | DX | MA | AG | LU |
| --- | --- | --- | --- | --- | --- | --- | --- | --- |
| Tree | 19 | 137 | 131 | 22 | 24 | 31 | 21 | 29 |
| Phys | Gun | Fire | Ice | Elec | Force | Light | Dark |
| --- | --- | --- | --- | --- | --- | --- | --- |
| - | - | Weak | - | - | - | - | - |
Shin Megami Tensei IV ApocalypseEdit
Race

Level

HP

MP

| | | |
| --- | --- | --- |
| Strength | 15 | |
| Dexterity | 19 | |
| Magic | 30 | |
| Agility | 21 | |
| Luck | 24 | |

Tree
16
140
168
| Phys | Gun | Fire | Ice | Elec | Force | Light | Dark |
| --- | --- | --- | --- | --- | --- | --- | --- |
| - | Resist | Weak | - | - | Resist | - | - |
| | |
| --- | --- |
| Ailment Resistance | Null:Bind, Resist:Panic |
| | |
| --- | --- |
| Normal Attack | Phys x1, 1 enemy |
List of Skills

Skill
Cost
Effect
Level
Dia
8 MP
Restores small amount of HP to one ally.
Innate
Rakukaja
20 MP
Buffs party's defense by 1 level.
Innate
Attack Knowhow
Auto
Allows equipper to use attack items in battle.
17
Makakaja
20 MP
Buffs party's magic attack power by 1 level.
18
Shin Megami Tensei: Devil SummonerEdit
| Race | Level | HP | MP | CP | NOA |
| --- | --- | --- | --- | --- | --- |
| Tree | 35 | 146 | 142 | 43 | 0-1 |

| Strength | Intelligence | Magic | Endurance | Agility | Luck |
| --- | --- | --- | --- | --- | --- |
| 7 | 8 | 14 | 7 | 6 | 15 |
| Personality | Phys Attack | Phys Hit | Base Defense | Avoid | Mgc Attack | Mgc Defense |
| --- | --- | --- | --- | --- | --- | --- |
| Mild | 84 | 62 | 84 | 63 | 32 | 32 |