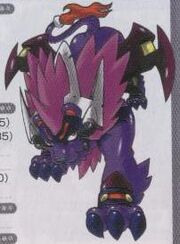 Dark Cat, known as Dead Sol Leon (デッドソルレオン, Deddosorureon) in Japan, is a demon in the series.
Appearances
Edit
DemiKids: Light/Dark VersionEdit
"A lion-demon aware that its destiny is to battle evil, armed with lethal claws."
Devil Children Messiah RiserEdit
Rand can evolve into Dark Cat after beating Hecatoncheir. Dark Cat is the second choice given by him.
DemiKids: Light & Dark VersionEdit
| Class | Element | Type | Exp | Level | HP | MP |
| --- | --- | --- | --- | --- | --- | --- |
| King | Light | Myth | 835 | 45 | 475 | 210 |

| ATK | DEF | MGC | RES | SPD | LCK |
| --- | --- | --- | --- | --- | --- |
| 47 | 44 | 43 | 42 | 43 | 40 |
List of Skills

Skill
Element
Cost
Effect
Light Howl
Light
25 HP
Small dmg. Foes
Shockbolt
Thunder
35 HP
Large dmg +Paralyze. Foes
Heal All
Light
12 MP
Minor HP recovery. Party
Triple Nova
Fire
50 HP
Hit x3. 1 Foe
Revive
Light
18 MP
Revive. 1 Ally
Healmax
Light
20 MP
Full HP recovery. 1 Ally
Devil Children: Fire/Ice BookEdit
| Class | Element | Type | Exp | Level | HP | MP |
| --- | --- | --- | --- | --- | --- | --- |
| King | Light | Myth | 835 | 45 | 475 | 210 |

| ATK | DEF | MGC | RES | SPD | LCK |
| --- | --- | --- | --- | --- | --- |
| 47 | 44 | 43 | 42 | 43 | 40 |
List of Skills

Light Howl
Sabaki no Ikazuchi
Recarm
Triple Vice
Media
Diarahan
Devil Children Messiah RiserEdit
| Number | Element | Weakness | Type | Level | HP | MP |
| --- | --- | --- | --- | --- | --- | --- |
| 91 | Light | Dark | Myth | - | 190 | 155 |
| ATK | MGC | DEF | RES | SPD | Quick | Call | Spell |
| --- | --- | --- | --- | --- | --- | --- | --- |
| 20 | 16 | 6 | 5 | 15 | 33 | - | Dead Storm |