Ad blocker interference detected!
Wikia is a free-to-use site that makes money from advertising. We have a modified experience for viewers using ad blockers

Wikia is not accessible if you've made further modifications. Remove the custom ad blocker rule(s) and the page will load as expected.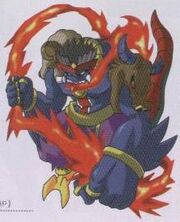 Demogorgon (デモゴルゴン, Demogorugon)? is a demon in the series.
Demogorgon, although often ascribed to Greek mythology, is actually attributed to a fourth-century scholar, imagined as the name of a pagan god or demon, associated with the underworld and envisaged as a powerful primordial being, whose very name had been taboo. Some could say that Demogorgon, or at least the name Demogorgon, is synonymous with Satan. Indeed one, less accepted, theory suggests the name Demogorgon is a variation of Demiurge. This could very similar to how Satan is opposed to God.
Appearances
Edit
Devil Children Red/Black BookEdit
Demogorgon is one of the demons that serve Elegy and fights for her during the game. Demogorgon can be obtained in Red Book after collecting 150 demons.
Shin Megami Tensei: DeviChilEdit
Vibhishana, Demogorgon, and Paimon serve as antagonists for the second half of the series, and he is slain by Zebul near the end of the anime.
Devil Children Red/Black BookEdit
| Class | Element | Type | Level | HP | MP | Exp |
| --- | --- | --- | --- | --- | --- | --- |
| General | Dark | Boss | 26 | 280 | 117 | |
| ATK | DEF | MGC | RES | SPD | LCK |
| --- | --- | --- | --- | --- | --- |
| 26 | 23 | 24 | 21 | 18 | 19 |
List of Skills

Agilao
Dark Spear
Jigokuduki
Sukunda
Gaia Buster
Maharagi
Devil Children Black Book/Red Book (PS)Edit
| Class | Element | Type | Level | HP | MP | Exp |
| --- | --- | --- | --- | --- | --- | --- |
| General | Dark | Boss | 26 | 280 | 117 | |
| ATK | DEF | MGC | RES | SPD | LCK |
| --- | --- | --- | --- | --- | --- |
| 26 | 23 | 24 | 21 | 18 | 19 |
List of Skills

Agilao
Dark Spear
Jigokuduki
Sukunda
Gaia Buster
Maharagi
Devil Children: White BookEdit
| Class | Element | Type | Level | HP | MP | Exp |
| --- | --- | --- | --- | --- | --- | --- |
| General | Dark | Boss | 26 | 280 | 117 | |
| ATK | DEF | MGC | RES | SPD | LCK |
| --- | --- | --- | --- | --- | --- |
| 26 | 23 | 24 | 21 | 18 | 19 |
List of Skills

Agilao
Dark Spear
Jigokuduki
Sukunda
Gaia Buster
Maharagi