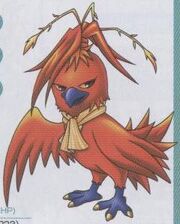 Denix, known as Death Phoenix (デスフェニックス, Desufenikkusu) in Japan, is a demon in the series.
Appearances
Edit
DemiKids: Light & DarkEdit
"A mutant phoenix. Now flies so fast that it can confuse its enemies. "
—DemiKids Demonary
Denix is the second award given to the Protagonist by Takaharu Ougi after beating him in BattleNet several times.
Devil Children: White BookEdit
| Class | Element | Type | Exp | Level | HP | MP |
| --- | --- | --- | --- | --- | --- | --- |
| Elite | Wind | Beast | | 17 | 183 | 84 |
| ATK | DEF | MGC | RES | SPD | LCK |
| --- | --- | --- | --- | --- | --- |
| 20 | 16 | 14 | 15 | 16 | 11 |
DemiKids: Light & DarkEdit
| Class | Element | Type | Exp | Level | HP | MP |
| --- | --- | --- | --- | --- | --- | --- |
| Elite | Fire | Bird | 127 | 17 | 183 | 84 |

| ATK | DEF | MGC | RES | SPD | LCK |
| --- | --- | --- | --- | --- | --- |
| 20 | 16 | 14 | 15 | 16 | 11 |
List of Skills

Skill
Element
Cost
Effect
Sonic Boom
Wind
23 HP
Small dmg. Foes
Cure
Light
6 MP
Cure. 1 Ally
Heal All
Light
12 MP
Minor HP recovery. Party
Defboost
Light
6 MP
DEF Up. Party
Hyper Drain
Dark
8 MP
Null +Stat. Foes
Pyrodeus
Fire
8 MP
Small dmg. 2 Foes
Devil Children Fire/Ice BookEdit
| Class | Element | Type | Exp | Level | HP | MP |
| --- | --- | --- | --- | --- | --- | --- |
| Elite | Fire | Bird | 127 | 17 | 183 | 84 |

| ATK | DEF | MGC | RES | SPD | LCK |
| --- | --- | --- | --- | --- | --- |
| 20 | 16 | 14 | 15 | 16 | 11 |