Ad blocker interference detected!
Wikia is a free-to-use site that makes money from advertising. We have a modified experience for viewers using ad blockers

Wikia is not accessible if you've made further modifications. Remove the custom ad blocker rule(s) and the page will load as expected.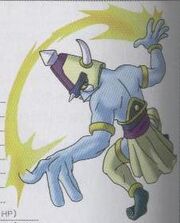 Deva (デーバ?), or Diva (ディーバ?), is a demon in the series.
Devas are heavenly deities in various Asian myths. In Vedic mythology, they were the gods of natural phenomenon, and constantly competed with the Asuras, who in this case were gods of moral/social phenomenon.
In Hinduism, Devas and Asuras were both demigods who are at constant war. In Buddhism, Devas were lesser deities who you could reincarnate into if you accumulated enough good karma. In Zoroastrianism, they were called Daevas and were evil, false deities who were to be rejected for being misled by "The Lie".
Appearances
Edit
Last Bible, as Diva in Revelations: The Demon Slayer
Devil Children Red/Black BookEdit
Deva is one of the three tribes of Marble Land. They oppose the rival tribes Rasetsu and Shura ruling the land as the new Maou. Deva is lead by Indra. Rank fusing Deva six times can earn a Deva Ou.
Megami TenseiEdit
Kyūyaku Megami TenseiEdit
Megami TenseiEdit
| Race | Level | HP | MP | VIT | INT | STR | SPD | LUC | DEF |
| --- | --- | --- | --- | --- | --- | --- | --- | --- | --- |
| Haunt | 36 | 186 | 51 | 10 | 15 | 9 | 20 | 12 | 11 |
Swd
Gun
Fir
Ice
Elc
Exp
For
Bnd
Crs
Nrv
Mnd

6

/

8

1

/

8

6

/

8

3

/

8
Dr
2×

6

/

8

4

/

8
Nu
Nu
-
List of Spells

Skill
Cost
Effect
Pulinpa
3 MP
Inflicts Panic (2 enemies, Mind-type)
Paralyze
Extra
Damage + Paralyze one enemy
Zandyne
10 MP
Massive Force damage (1-2 enemies)
Last BibleEdit
| Level | HP | MP | NOA | DEF | STR | INT | END | SPD | LUC |
| --- | --- | --- | --- | --- | --- | --- | --- | --- | --- |
| 52 | 433 | 74 | 1 | | 19 | 17 | 17 | 19 | 19 |
List of Skills

Skill
Cost
Effect
Ice 2
18 MP
Strong Ice damage to a group of enemies
Devil Children Red/Black BookEdit
| Class | Element | Type | Level | HP | MP | Exp |
| --- | --- | --- | --- | --- | --- | --- |
| Common | Light | Good | 10 | 115 | 41 | 44 |
| ATK | DEF | MGC | RES | SPD | LCK |
| --- | --- | --- | --- | --- | --- |
| 14 | 12 | 8 | 10 | 9 | 9 |
Devil Children (PS)Edit
| Class | Element | Type | Level | HP | MP | Exp |
| --- | --- | --- | --- | --- | --- | --- |
| Common | Light | Good | 10 | 115 | 41 | 44 |
| ATK | DEF | MGC | RES | SPD | LCK |
| --- | --- | --- | --- | --- | --- |
| 14 | 12 | 8 | 10 | 9 | 9 |
Devil Children White BookEdit
| Class | Element | Type | Level | HP | MP | Exp |
| --- | --- | --- | --- | --- | --- | --- |
| Common | Light | Good | 10 | 115 | 41 | 44 |
| ATK | DEF | MGC | RES | SPD | LCK |
| --- | --- | --- | --- | --- | --- |
| 14 | 12 | 8 | 10 | 9 | 9 |