Devil Summoner Raidou Kuzunoha tai Abadon Ou Soundtrack
Talk

0
Share
Ad blocker interference detected!
Wikia is a free-to-use site that makes money from advertising. We have a modified experience for viewers using ad blockers

Wikia is not accessible if you've made further modifications. Remove the custom ad blocker rule(s) and the page will load as expected.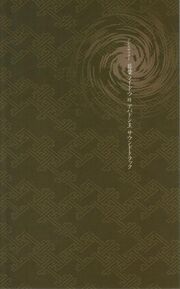 Devil Summoner Raidou Kuzunoha tai Abadon Ou Soundtrack (デビルサマナー葛葉ライドウ対アバドン王サウンドトラック, Debiru Samanā Kuzunoha Raidō tai Abadon Ō Saundotorakku) is the soundtrack for Devil Summoner 2: Raidou Kuzunoha vs. King Abaddon. The soundtrack is a promotional album that was included with the Japanese version of the game, and consist of only one CD containing 23 new compositions by Shoji Meguro. These compositions included arrangements of certain tracks from the previous game Devil Summoner: Raidou Kuzunoha vs. The Soulless Army.
Tracklist
Edit
Disc 1 (48:29)
No.
Name
Translation
Length
01
葛葉ライドウのテーマ2008
Theme of Raidou Kuzunoha 2008
1:31
02
新たなる戦
New Battles
2:43
03
序章
Prologue
2:09
04
探偵社の日常
Everyday Detective Agency
1:07
05
槻賀多の風
The Wind of Tsukigata
2:09
06
槻賀多の召喚師
The Summoner of Tsukigata
2:16
07
トーク
Talk
0:53
08
今後ともよろしく
Treat Me Well From Now On
0:55
09
決戦
Decisive Battle
2:40
10
槻賀多の闇
The Darkness of Tsukigata
2:50
11
槻賀多の家々
The Homes of Tsukigata
3:11
12
冒険
Adventure
2:12
13
決意
Determination
1:38
14
バトル-ライドウ-2008
Battle -Raidou- 2008
2:27
15
筑土町2008
Tsukudo-cho 2008
2:07
16
予兆
Omen
1:31
17
不運
Misfortune
0:54
18
魔人戦
Fiend Battle
2:17
19
胎動
Movement
0:42
20
啓示
Apocalypse
2:13
21
すべての悲しみ
Whole Sadness
3:35
22
最後の決戦
The Final Decisive Battle
2:32
23
エンディングテーマ
Ending Theme
3:57
External Link
Edit