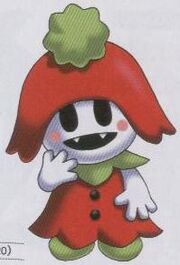 Diana (ダイアナ, Daiana)? is a demon in the Devil Children series. Diana is not to be confused with the Roman demon of the same name.
Appearances
Edit
Black Book & Red BookEdit
"A wee bit precocious female Petit Frost capable of manipulating ice."
—Devil Database
After being sent to a prison cell in Hel's castle in Ice Land, Setsuna meets Diana who then helps him escape. Diana later tries to steal the Golden Messiah Horn from Hel, but ends up captured. Setsuna defeats Hel and saves Diana, who gives him the Horn as thanks.
When Mirai Kaname, who was given false information that Setsuna is an evil Devil Child who wants to destroy the Expanse, appears trying to hunt him down, Diana fights Mirai in order to give Setsuna time to escape to Marble Land. Once in Marble Land, Cool is heavily injured by Abaddon and becomes unable to fight until Setsuna retrieves a special medicine from Vibhishana. If the player returns to Ice Land after healing Cool and speak to Diana's friend, Dust the Yeti, he'll tell Setsuna that he can't find Diana anywhere. She can be found inside the Frozen Cave leading to Frost Town, where she'll join the party.
Devil Children: Black/Red BookEdit
| Class | Element | Type | Level | HP | MP | Exp |
| --- | --- | --- | --- | --- | --- | --- |
| King | Water | Boss | 12 | 393 | 180 | - |
| ATK | DEF | MGC | RES | SPD | LCK |
| --- | --- | --- | --- | --- | --- |
| - | - | - | - | - | - |
| Class | Element | Type | Level | HP | MP | Exp |
| --- | --- | --- | --- | --- | --- | --- |
| King | Water | Boss | 12 | 131 | 60 | 90 |
| ATK | DEF | MGC | RES | SPD | LCK |
| --- | --- | --- | --- | --- | --- |
| 12 | 11 | 12 | 12 | 11 | 10 |
Devil Children Black Book/Red Book (PS)Edit
| Class | Element | Type | Level | HP | MP | Exp |
| --- | --- | --- | --- | --- | --- | --- |
| King | Water | Boss | 12 | 393 | 180 | - |
| ATK | DEF | MGC | RES | SPD | LCK |
| --- | --- | --- | --- | --- | --- |
| - | - | - | - | - | - |
| Class | Element | Type | Level | HP | MP | Exp |
| --- | --- | --- | --- | --- | --- | --- |
| King | Water | Boss | 12 | 131 | 60 | 90 |
| ATK | DEF | MGC | RES | SPD | LCK |
| --- | --- | --- | --- | --- | --- |
| 12 | 11 | 12 | 12 | 11 | 10 |
Devil Children: White BookEdit
| Class | Element | Type | Level | HP | MP | Exp |
| --- | --- | --- | --- | --- | --- | --- |
| King | Water | Boss | 12 | 131 | 60 | 90 |
| ATK | DEF | MGC | RES | SPD | LCK |
| --- | --- | --- | --- | --- | --- |
| 12 | 11 | 12 | 12 | 11 | 10 |