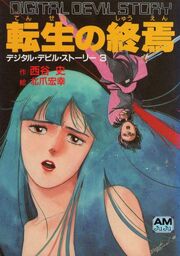 Digital Devil Story 3: Demise of the Reincarnation (デジタル・デビル・ストーリー3 転生の終焉) is the third and last book of the original Digital Devil Story trilogy authored by Aya Nishitani. This trilogy is the original source which gave birth to the entire Megami Tensei franchise.
468 pages
Reprint released on June, 2006
The original cover for Demise of the Reincarnation was used for the reprint of the Digital Devil Story trilogy as a single title.
Characters
Edit
Ad blocker interference detected!
Wikia is a free-to-use site that makes money from advertising. We have a modified experience for viewers using ad blockers

Wikia is not accessible if you've made further modifications. Remove the custom ad blocker rule(s) and the page will load as expected.