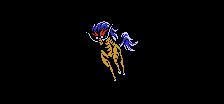 Dodongo (ドドンゴー?) is a demon in the series.
Dodongo is most likely based on a monster fought by Ultraman in episode 12 of the Ultraman series. His appearance is similar to that of a Qilin.
Perhaps coincidentally, the popular Legend of Zelda series features lizard creatures who breathe fire called Dodongos, who are typically defeated using Bombs.
Appearances
Edit
Megami TenseiEdit
Dodongo is the only neutral-aligned demon besides Purski that can't be recruited or fused.
Megami TenseiEdit
Megami Tensei IIEdit
| Stamina | Intelligence | Attack | Agility | Luck | Defense |
| --- | --- | --- | --- | --- | --- |
| 19 | 7 | 23 | 11 | 6 | 11 |
Kyūyaku Megami TenseiEdit
Megami TenseiEdit
| Race | Level | HP | MP | VIT | INT | STR | SPD | LUC | DEF |
| --- | --- | --- | --- | --- | --- | --- | --- | --- | --- |
| Beast | 35 | 285 | - | 16 | 9 | 13 | 17 | 11 | 17 |
Swd
Gun
Fir
Ice
Elc
Exp
For
Bnd
Crs
Nrv
Mnd
-

6

/

8
Dr
2.5×

6

/

8

2

/

8

6

/

8

2

/

8

4

/

8

1

/

8

7

/

8
List of Spells

Skill
Cost
Effect
Blaze
Extra
Fire damage to all enemies
Megami Tensei IIEdit
| Race | Level | HP | MP | VIT | INT | STR | SPD | LUC | DEF |
| --- | --- | --- | --- | --- | --- | --- | --- | --- | --- |
| Wilder | 42 | 402 | - | 19 | 7 | 23 | 11 | 6 | 11 |
Swd
Gun
Fir
Ice
Elc
Exp
For
Bnd
Crs
Nrv
Mnd
-

6

/

8
Dr
2.5×

6

/

8

2

/

8

6

/

8

2

/

8

4

/

8

1

/

8

7

/

8
List of Spells

Skill
Cost
Effect
Roar
Extra
Damage + Bind to all enemies
Majin TenseiEdit
| Race | Level | HP | MP | Mv Range | Mv Type | Atk Type | CP |
| --- | --- | --- | --- | --- | --- | --- | --- |
| Wilder | 12 | 118 | - | 8 | Water | CLOSE | - |

| Strength | Magic | Technique | Defense | Agility | Luck |
| --- | --- | --- | --- | --- | --- |
| 10 | 6 | 7 | 6 | 6 | 6 |
Majin Tensei IIEdit
| Race | Level | HP | MP | Mv Range | Mv Type | Atk Range | MAG |
| --- | --- | --- | --- | --- | --- | --- | --- |
| Wilder | 18 | 95 | - | 10 | Walk | 1-2 | 180 |

| St | Ma | In | Ag | Lu | Atk | P.Def | M.Atk | M.Def | Hit | Eva | Crt |
| --- | --- | --- | --- | --- | --- | --- | --- | --- | --- | --- | --- |
| 11 | 6 | 10 | 10 | 5 | 30 | 10 | 6 | 16 | 90 | 8 | 2 |
List of Skills

Skill
Power
Range
Cost
Target
Effect
Bite
100%
1
P. Extra
Single
70% chance to inflict Close