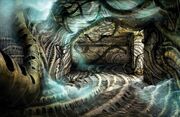 Domain is a term for a type of location found in Shin Megami Tensei IV.
Appearances
Edit
Domains are areas created by powerful demons to capture prey. The entrance to a Domain is a swirling green portal that disappears once prey has entered. A exit exists in another part of the Domain which can be used to escape. A Domain appears organic in nature with long yellowish brown tendrils spread across the walls, ceiling, and ground with red lights moving through them. The only way to remove a domain is by killing the demon who made it, which results in the Domain disappearing. Domains that are not encountered during the main story generally have the Mapper App disabled.
List of Domains
Edit
Tokyo - Bay Area
Edit
Ad blocker interference detected!
Wikia is a free-to-use site that makes money from advertising. We have a modified experience for viewers using ad blockers

Wikia is not accessible if you've made further modifications. Remove the custom ad blocker rule(s) and the page will load as expected.