Ad blocker interference detected!
Wikia is a free-to-use site that makes money from advertising. We have a modified experience for viewers using ad blockers

Wikia is not accessible if you've made further modifications. Remove the custom ad blocker rule(s) and the page will load as expected.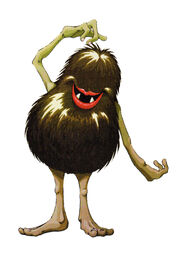 Domovoi (ドモヴォーイ, Domovōi)? is a demon in the series.
A kind of house spirit found in Slavic Europe. It is said that saying the word "master" in front of it is a sign of respect to the creature. In some legends Domovoi is said to be married to Kikimora.
Appearances
Edit
Shin Megami Tensei: Devil SummonerEdit
| Race | Level | HP | MP | St | In | Ma | Ag | Lu |
| --- | --- | --- | --- | --- | --- | --- | --- | --- |
| Fairy | 23 | 104 | 63 | 9 | 5 | 7 | 5 | 9 |

| CP | NOA | P.ATK | P.HIT | B.DEF | AVD | M.ATK | M.DEF |
| --- | --- | --- | --- | --- | --- | --- | --- |
| 19 | 1 | 64 | 43 | 56 | 42 | 16 | 20 |
Giten Megami Tensei: Tokyo MokushirokuEdit
| Race | Alignment | Level | HP | MP | CP |
| --- | --- | --- | --- | --- | --- |
| Jirae | Neutral-Neutral | 6 | 52 | 25 | 11 |

| Intuition | Will Power | Magic | Intelligence | Divine Protection |
| --- | --- | --- | --- | --- |
| 7 | 8 | 5 | 6 | 11 |

| Strength | Stamina | Agility | Dexterity | Charm |
| --- | --- | --- | --- | --- |
| 10 | 10 | 14 | 14 | 6 |
Devil Children Fire/Ice BookEdit
| Class | Element | Type | Level | HP | MP | Exp |
| --- | --- | --- | --- | --- | --- | --- |
| Elite | Earth | Ghost | 15 | 178 | 65 | 99 |

| ATK | DEF | MGC | RES | SPD | LCK |
| --- | --- | --- | --- | --- | --- |
| 14 | 13 | 11 | 12 | 11 | 10 |