Ad blocker interference detected!
Wikia is a free-to-use site that makes money from advertising. We have a modified experience for viewers using ad blockers

Wikia is not accessible if you've made further modifications. Remove the custom ad blocker rule(s) and the page will load as expected.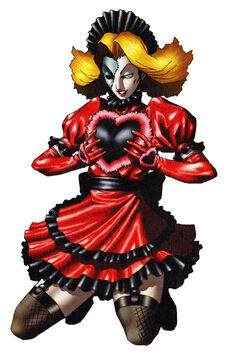 Drag Queen (ドラッグクイーン, Doraggu Kuīn)? is a demon in the series.
A man who dresses up in women's clothes, typically for the purposes of entertainment. It can also refer to a male transvestite. There are many kinds of drag artists and they vary greatly, such as professionals who have starred in films to people who wish to try it once. Drag queens also vary by class and culture. Although many drag queens are gay men, there are drag artists of all genders and sexualities who do drag for various reasons or purposes.
Appearances
Edit
Devil Summoner: Soul HackersEdit
"

Cross-dressing men who died while wearing their preferred outfits and became zombies. It is possible that these in particular, and not all transvestites, have such an overwhelming devotion to their hobby that it ended up zombifying them in the afterlife.

"
—Soul Hackers Compedium
Devil Summoner: Soul HackersEdit
| Race | Level | HP | MP | St | In | Ma | En | Ag | Lu |
| --- | --- | --- | --- | --- | --- | --- | --- | --- | --- |
| Undead | 4 | 50 | 32 | 4 | 3 | 4 | 3 | 3 | 4 |

| CP | MAG Summon | Personality | P.ATK | P.HIT | B.DEF | AVD | M.ATK | M.HIT |
| --- | --- | --- | --- | --- | --- | --- | --- | --- |
| 2 | 96 | Dumb | 16 | 8 | 30 | 8 | 33 | 10 |
| Reflects | Absorbs | Void | Resists | Weak |
| --- | --- | --- | --- | --- |
| - | - | Death, Mind | - | Fire, Expel |