Ad blocker interference detected!
Wikia is a free-to-use site that makes money from advertising. We have a modified experience for viewers using ad blockers

Wikia is not accessible if you've made further modifications. Remove the custom ad blocker rule(s) and the page will load as expected.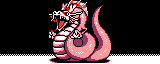 Dragon (ドラゴン?), or Wurm (ウルム?), is a demon in the series.
Dragons are mythical creatures seen in both legends and fantasy series and vary in form and shape from Gods, demons, angels, etc. "Wurm" is archaic German for "dragon", which gave rise to Worms and Wyrms.
Appearances
Edit
Last BibleEdit
Dragon, along with Amon and Kirin, must be revived from bones. 3 Dragon Bones must be collected to create Dragon Zombie (ドラゴン(骨)), which can then be fully revived by one of the Sages in the Ark once it is completed.
Giten Megami Tensei: Tokyo MokushirokuEdit
Dragon appears as Land Dragon, Fire Dragon, Sky Dragon, and Poison Dragon.
Kyūyaku Megami TenseiEdit
Megami Tensei IIEdit
| Race | Level | HP | MP | VIT | INT | STR | SPD | LUC | DEF |
| --- | --- | --- | --- | --- | --- | --- | --- | --- | --- |
| Wilder | 47 | 567 | - | 24 | 8 | 20 | 12 | 7 | 11 |
List of Spells

Skill
Cost
Effect
Poison Gas
Extra
Damage + Poison to all enemies
Last BibleEdit
| Level | HP | MP | NOA | DEF | STR | INT | END | SPD | LUC |
| --- | --- | --- | --- | --- | --- | --- | --- | --- | --- |
| 55 | 780 | - | 1 | 72 | 25 | 11 | 25 | 7 | 7 |

| | | | |
| --- | --- | --- | --- |
| Resistances | Resists Force | Special | Flame |
| Level | HP | MP | NOA | DEF | STR | INT | END | SPD | LUC |
| --- | --- | --- | --- | --- | --- | --- | --- | --- | --- |
| 60 | 900 | 143 | 1 | 105 | 25 | 19 | 25 | 15 | 13 |
List of Skills

Skill
Cost
Effect
Heal All 2
28 MP
Moderate HP recovery for all characters
Curse 2
18 MP
Instantly kills all enemies
Flare 2
25 MP
Strong Fire damage to all enemies
Last Bible IIIEdit
| Level | HP | MP | ATK | DEF | STR | INT | END | SPD | LUC |
| --- | --- | --- | --- | --- | --- | --- | --- | --- | --- |
| 37 | 423 | 173 | 118 | 56 | 19 | 11 | 20 | 19 | 11 |

| | | | |
| --- | --- | --- | --- |
| Equipment | Weapon, Accessory | Card Location | Nell |
Giten Megami Tensei: Tokyo MokushirokuEdit
| Race | Alignment | Level | HP | MP | CP |
| --- | --- | --- | --- | --- | --- |
| Akuma | Dark-Chaos | 8 | 99 | 38 | 14 |

| Intuition | Will Power | Magic | Intelligence | Divine Protection |
| --- | --- | --- | --- | --- |
| 6 | 12 | 7 | 4 | 9 |

| Strength | Stamina | Agility | Dexterity | Charm |
| --- | --- | --- | --- | --- |
| 16 | 20 | 15 | 2 | 5 |
| Race | Alignment | Level | HP | MP | CP |
| --- | --- | --- | --- | --- | --- |
| Akuma | Dark-Chaos | 9 | 99 | 52 | 15 |

| Intuition | Will Power | Magic | Intelligence | Divine Protection |
| --- | --- | --- | --- | --- |
| 7 | 10 | 10 | 9 | 8 |

| Strength | Stamina | Agility | Dexterity | Charm |
| --- | --- | --- | --- | --- |
| 17 | 18 | 13 | 4 | 5 |
| Race | Alignment | Level | HP | MP | CP |
| --- | --- | --- | --- | --- | --- |
| Akuma | Dark-Chaos | 10 | 124 | 60 | 16 |

| Intuition | Will Power | Magic | Intelligence | Divine Protection |
| --- | --- | --- | --- | --- |
| 7 | 11 | 11 | 10 | 9 |

| Strength | Stamina | Agility | Dexterity | Charm |
| --- | --- | --- | --- | --- |
| 17 | 21 | 11 | 3 | 6 |
| Race | Alignment | Level | HP | MP | CP |
| --- | --- | --- | --- | --- | --- |
| Akuma | Dark-Chaos | 11 | 6800 | 56 | 20 |

| Intuition | Will Power | Magic | Intelligence | Divine Protection |
| --- | --- | --- | --- | --- |
| 8 | 8 | 10 | 13 | 9 |

| Strength | Stamina | Agility | Dexterity | Charm |
| --- | --- | --- | --- | --- |
| 12 | 15 | 14 | 3 | 6 |