Ad blocker interference detected!
Wikia is a free-to-use site that makes money from advertising. We have a modified experience for viewers using ad blockers

Wikia is not accessible if you've made further modifications. Remove the custom ad blocker rule(s) and the page will load as expected.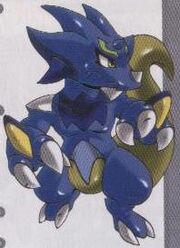 Dred Rox, known as Blood Hei Long (ブラッドヘイロン, Buraddoheiron) in Japan, is a demon in the series.
Appearances
Edit
DemiKids Light & DarkEdit
One of the first two forms that Rox evolves into after defeating Harborim. Choosing to ignore it will result in Gale evolving into this form. Can perform the combo Dragon Blow with Basilisk or Power, it is a dark element punch attack that hits all foes two times.
Devil Children Fire/Ice BookEdit
Gale will evolve down this path if his ATK stat is higher than his MGC stat.
Devil Children Messiah RiserEdit
Gale will evolve down this path if Akira picks the first choice after beating Odin in Inferno Pit.
DemiKids Light & DarkEdit
| Class | Element | Type | Exp | Level | HP | MP |
| --- | --- | --- | --- | --- | --- | --- |
| Elite | Dark | Myth | 128 | 17 | 189 | 75 |

| ATK | DEF | MGC | RES | SPD | LCK |
| --- | --- | --- | --- | --- | --- |
| 20 | 16 | 14 | 15 | 16 | 11 |
List of Skills

Skill
Element
Cost
Effect
Dark Howl
Dark
25 HP
Small dmg. Foes
Crush Claw
Dark
20 HP
Small dmg +DEF Down. 1 Foe
Ice Breath
Ice
23 HP
Small dmg +Freeze. 2 Foes
Paralyze
Dark
20 HP
Medium dmg +Paralyze. 1 Foe
Polarburst
Ice
10 MP
Medium dmg +Freeze. 1 Foe
Terror Gaze
Dark
10 HP
Absorb MP +DEF Down. Foes
Devil Children Fire/Ice BookEdit
| Class | Element | Type | Exp | Level | HP | MP |
| --- | --- | --- | --- | --- | --- | --- |
| Elite | Dark | Myth | 128 | 17 | 189 | 75 |

| ATK | DEF | MGC | RES | SPD | LCK |
| --- | --- | --- | --- | --- | --- |
| 20 | 16 | 14 | 15 | 16 | 11 |
List of Skills

Dark Howling
Crash Claw
Ice Breath
Paralyse
Bufula
Evil Eyes
Devil Children Messiah RiserEdit
| Number | Element | Weakness | Type | Level | HP | MP |
| --- | --- | --- | --- | --- | --- | --- |
| 82 | Dark | Light | Myth | - | 130 | 120 |
| ATK | MGC | DEF | RES | SPD | Quick | Call | Spell |
| --- | --- | --- | --- | --- | --- | --- | --- |
| 14 | 10 | 5 | 5 | 15 | 30 | - | Blood Rain |