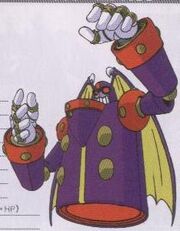 Dunamis (デュナミス, Dunamisu) is a demon in the series.
In Christian theology, "Dynamis" is sometimes used in conjunction with the Holy Spirit. It describes the activities of the Holy Spirit as believers receive Him (Acts 1:8, 10:38). In Gnosticism, he is the personification of power.
Appearances
Edit
DemiKids Light & DarkEdit
Known as Shadomas, he can use the dark type combo attack Shadow Break with Doomborg. Shadomas also has the special power Repulse.
Devil Children: Black/Red BookEdit
| Class | Element | Type | Exp | Level | HP | MP |
| --- | --- | --- | --- | --- | --- | --- |
| Elite | Dark | Holy | 497 | 34 | 360 | 159 |
| ATK | DEF | MGC | RES | SPD | LCK |
| --- | --- | --- | --- | --- | --- |
| 33 | 32 | 28 | 29 | 25 | 25 |
Devil Children White BookEdit
| Class | Element | Type | Exp | Level | HP | MP |
| --- | --- | --- | --- | --- | --- | --- |
| Elite | Dark | Holy | 497 | 34 | 360 | 159 |
| ATK | DEF | MGC | RES | SPD | LCK |
| --- | --- | --- | --- | --- | --- |
| 33 | 32 | 28 | 29 | 25 | 25 |
Devil Children Black Book/Red Book (PS)Edit
| Class | Element | Type | Exp | Level | HP | MP |
| --- | --- | --- | --- | --- | --- | --- |
| Elite | Dark | Holy | 497 | 34 | 360 | 159 |
| ATK | DEF | MGC | RES | SPD | LCK |
| --- | --- | --- | --- | --- | --- |
| 33 | 32 | 28 | 29 | 25 | 25 |
DemiKids Light & DarkEdit
| Class | Element | Type | Exp | Level | HP | MP |
| --- | --- | --- | --- | --- | --- | --- |
| Elite | Dark | Evil | | 31 | 327 | 145 |

| ATK | DEF | MGC | RES | SPD | LCK |
| --- | --- | --- | --- | --- | --- |
| 28 | 25 | 28 | 24 | 25 | 22 |
List of Skills

Skill
Element
Cost
Effect
Hex Comadeus
Dark
20 MP
Medium dmg +Faint. 2 Foes
Cycloburst
Wind
10 MP
Medium dmg. 1 Foe
Dark Spear
Dark
5 HP
-30% HP. 1 Foe
Distract
Dark
6 MP
Tempt. 1 Foe
Powerdrain
Dark
5 MP
ATK Down. Foes
Tornado
Wind
23 HP
Medium dmg. Foes
Devil Children Fire/Ice BookEdit
| Class | Element | Type | Exp | Level | HP | MP |
| --- | --- | --- | --- | --- | --- | --- |
| Elite | Dark | Evil | | 31 | 327 | 145 |

| ATK | DEF | MGC | RES | SPD | LCK |
| --- | --- | --- | --- | --- | --- |
| 28 | 25 | 28 | 24 | 25 | 22 |
Devil Children Messiah RiserEdit
| Number | Element | Weakness | Type | Level | HP | MP |
| --- | --- | --- | --- | --- | --- | --- |
| 12 | Dark | Light | | 14 | 190 | 60 |
| ATK | MGC | DEF | RES | SPD | Quick | Call | Spell |
| --- | --- | --- | --- | --- | --- | --- | --- |
| 9 | 15 | 5 | 5 | 12 | 33 | 12 | Media |