Ad blocker interference detected!
Wikia is a free-to-use site that makes money from advertising. We have a modified experience for viewers using ad blockers

Wikia is not accessible if you've made further modifications. Remove the custom ad blocker rule(s) and the page will load as expected.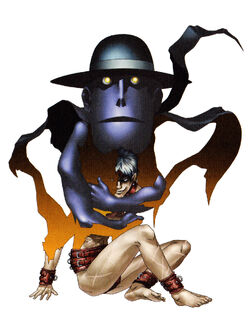 Dybbuk (ディブク?) is a recurring demon in the series.
In Jewish folklore, a dybbuk is a malicious possessing spirit, believed to be the dislocated soul of a dead person.
Dybbuks are said to have escaped from Gehenna or to have been turned away from Gehenna for serious transgressions, such as suicide, for which the soul is denied entry. The word "dybbuk" is derived from the Hebrew דיבוק, meaning "attachment"; the dybbuk attaches itself to the body of a living person and inhabits the flesh. According to belief, a soul that has been unable to fulfill its function during its lifetime is given another opportunity to do so in dybbuk form. It supposedly leaves the host body once it has accomplished its goal, sometimes after being helped.
Appearances
Edit
Shin Megami Tensei: Strange JourneyEdit
"

An evil spirit of Jewish lore. They are said to possess people. Unable to gain a new body, it searches for humans to attach to. Once driven away, the lost soul may return to the earth with a new body, or may be cast into Hell.

"
—Shin Megami Tensei: Strange Journey Compendium
Shin Megami Tensei IV ApocalypseEdit
Dybbuk appears in ecounters throughout Ueno. It is a source of the Mudo and Patra skills during Demon Whisper.
Devil Summoner: Soul HackersEdit
"

An evil spirit of Jewish lore. They are said to possess people. Unable to gain a new body, it searches for humans to attach to. Once driven away, the lost soul may return to the earth with a new body, or may be cast into Hell.

"
—Devil Summoner: Soul Hackers 3DS Compendium
Shin Megami Tensei: Strange JourneyEdit
| Attack Type | | | | | | | | | |
| --- | --- | --- | --- | --- | --- | --- | --- | --- | --- |
| Single foe/1/Physical/Sleep | - | - | Weak | - | - | - | Weak | - | - |
| Poison | Paralyze | Stone | Strain | Sleep | Charm | Mute | Fear | Bomb | Rage |
| --- | --- | --- | --- | --- | --- | --- | --- | --- | --- |
| Strong (50%) | 100% | 100% | 100% | 100% | 100% | 100% | 100% | 100% | 100% |
Item Drops
Spirit Cuffs
Life Stone
Revival Bead
Password
PbrGO8XWeELXO7XW

O--XOC4OG7bWO7$D
Shin Megami Tensei IVEdit
| Race | Level | HP | MP | ST | DX | MA | AG | LU |
| --- | --- | --- | --- | --- | --- | --- | --- | --- |
| Spirit | 4 | 66 | 63 | 9 | 10 | 12 | 9 | 12 |
| Phys | Gun | Fire | Ice | Elec | Force | Light | Dark |
| --- | --- | --- | --- | --- | --- | --- | --- |
| - | - | - | Weak | - | - | Weak | - |
Shin Megami Tensei IV ApocalypseEdit
Race

Level

HP

MP

| | | |
| --- | --- | --- |
| Strength | 11 | |
| Dexterity | 14 | |
| Magic | 22 | |
| Agility | 15 | |
| Luck | 18 | |

Spirit
10
107
92
| Phys | Gun | Fire | Ice | Elec | Force | Light | Dark |
| --- | --- | --- | --- | --- | --- | --- | --- |
| - | - | - | Weak | - | - | Weak | Resist |
| | |
| --- | --- |
| Normal Attack | Phys x1, 1 enemy |
Skill Affinities

Ailment

+2

· Dark

+1

· Healing

+1

· Force

-1

· Support

-1

· Ice

-3

·
Light

-3
List of Skills

Skill
Cost
Effect
Level
Mudo
6 MP
Weak dark damage to one foe.

Smirk

+30% instant death
Innate
Hard Worker
Auto
Increases experience points received after battles.
11
Patra
6 MP
Removes sleep, panic, bind, charm, mute and daze from one ally.
12
Devil Summoner: Soul HackersEdit
| Race | Level | HP | MP | CP | MAG Summon |
| --- | --- | --- | --- | --- | --- |
| Spirit | 32 | 274 | 92 | 10 | 764 |

| Strength | Intelligence | Magic | Endurance | Agility | Luck |
| --- | --- | --- | --- | --- | --- |
| 9 | 6 | 9 | 10 | 8 | 7 |
| Personality | Phys Attack | Phys Hit | Mgc Attack | Mgc Hit | Base Defense | Avoid |
| --- | --- | --- | --- | --- | --- | --- |
| Sly | 82 | 52 | 78 | 20 | 100 | 51 |
| Resist | Void | Absorb | Reflect | Weak |
| --- | --- | --- | --- | --- |
| - | Death, Nerve, Gun | - | - | Expel |