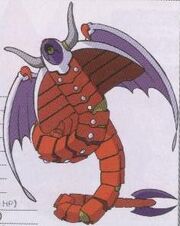 Ego (エゴ, Ego) is a demon in the series.
In spirituality ego is described as an illusion in nondualism, mysticism, and meditation. The "sense of doership" is the part of the individual existence that believes it is a human being. It believes it must fight for its existence and is unaware of its true nature. Ego is associated with the mind and time, where it believes it must think in order to prove its existence rather than knowing its own self in the present.
Appearances
Edit
Devil Children Red/Black BookEdit
Ego ranks up to Satan.
Devil Children: Black/Red BookEdit
| Class | Element | Type | Exp | Level | HP | MP |
| --- | --- | --- | --- | --- | --- | --- |
| King | Dark | Holy | 965 | 48 | 514 | 221 |
| ATK | DEF | MGC | RES | SPD | LCK |
| --- | --- | --- | --- | --- | --- |
| 44 | 43 | 47 | 45 | 43 | 43 |
List of Skills

Bufula
Dormina
Marin Karin
Mahabufu
Hapilma
Sabaki no Ikazuchi
Devil Children: White BookEdit
| Class | Element | Type | Exp | Level | HP | MP |
| --- | --- | --- | --- | --- | --- | --- |
| King | Dark | Holy | 965 | 48 | 514 | 221 |
| ATK | DEF | MGC | RES | SPD | LCK |
| --- | --- | --- | --- | --- | --- |
| 44 | 43 | 47 | 45 | 43 | 43 |
List of Skills

Bufula
Dormina
Marin Karin
Mahabufu
Hapilma
Sabaki no Ikazuchi
Devil Children: Black/Red Book (PS)Edit
| Class | Element | Type | Exp | Level | HP | MP |
| --- | --- | --- | --- | --- | --- | --- |
| King | Dark | Holy | 965 | 48 | 514 | 221 |
| ATK | DEF | MGC | RES | SPD | LCK |
| --- | --- | --- | --- | --- | --- |
| 44 | 43 | 47 | 45 | 43 | 43 |
List of Skills

Bufula
Dormina
Marin Karin
Mahabufu
Hapilma
Sabaki no Ikazuchi