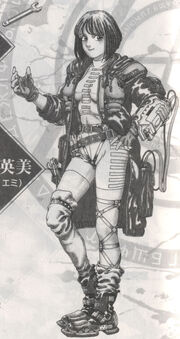 Emi Kirishima (桐島英美, Kirishima Emi) is a character from Giten Megami Tensei: Tokyo Mokushiroku
Appearances
Edit
Giten Megami Tensei: Tokyo MokushirokuEdit
Emi Kirishima is the Hatsudai shelter's resident mechanic and member of the Devil Busters. Although she's often teased by her fellow DBs, Emi's prowess with technology and her spirited nature make her an invaluable and reliable partner. She reluctantly announces both her and Tatsuya Hayasaka's temporary resignation after learning of Tatsuya's death, leaving Ayato Katsuragi as per an agreement with Doctor Kusaka. Later on, her pet, Newton, becomes a playable character.
Ad blocker interference detected!
Wikia is a free-to-use site that makes money from advertising. We have a modified experience for viewers using ad blockers

Wikia is not accessible if you've made further modifications. Remove the custom ad blocker rule(s) and the page will load as expected.