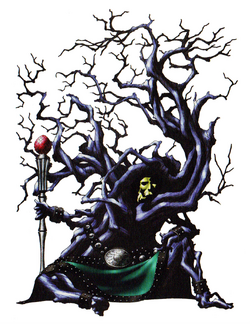 Erlkonig (アールキング, Ārukingu)? is a recurring demon in the series.
The Erlkönig (Alder King), or Erlking, is a character depicted in a number of German poems and ballads as a malevolent creature who haunts forests and carries off travelers to their deaths. The name is an 18th-century mistranslation of the original Danish word elverkonge, "elf-king."
Appearances
Edit
Shin Megami Tensei IVEdit
Erlkonig controls a Domain found in the Yoroi Shrine. The Yata no Kagami is obtained after his defeat.
Shin Megami Tensei IV ApocalypseEdit
Erlkonig can teach Nanashi the Maziodyne, Stun Needles and Myriad Arrows skills through his Demon Whisper. He benefits from learning Gun, Electricity and Darkness skills.
Devil Summoner: Soul HackersEdit
"An evil wood spirit appearing in Germany's Scharzwald. He charms people and leads them to their deaths.
His name means "Alder King," and true to his name, he is the ruler of the alders of the forest. It is said that the Erlkonig is the strongest of the alder trees."
—Devil Summoner: Soul Hackers 3DS Compendium
Shin Megami Tensei: Strange JourneyEdit
| Attack Type | | | | | | | | | |
| --- | --- | --- | --- | --- | --- | --- | --- | --- | --- |
| Single Foe/1/Physical/None | - | Reflect | Weak | - | - | - | Strong | Null | - |
| Poison | Paralyze | Stone | Strain | Sleep | Charm | Mute | Fear | Bomb | Rage |
| --- | --- | --- | --- | --- | --- | --- | --- | --- | --- |
| 100% | 100% | 100% | 100% | 100% | 100% | 100% | 100% | 100% | 100% |
D-Source Skills
Tyranny
Rakukaja
Drain Elec
Item Drops
Wood Sceptre
Life Stone
Bead
Password
E2i9U6KTDHqE8HqK

8pST8SqTjFuTVHtM
Shin Megami Tensei IVEdit
Race

Level

HP

MP

| | | |
| --- | --- | --- |
| Strength | 80 | |
| Dexterity | 71 | |
| Magic | 55 | |
| Agility | 64 | |
| Luck | 52 | |

Wood
61
671
134
| Phys | Gun | Fire | Ice | Elec | Force | Light | Dark |
| --- | --- | --- | --- | --- | --- | --- | --- |
| - | Repel | Weak | - | Resist | - | Resist | Null |
| | |
| --- | --- |
| Normal Attack | Phys x1 hit, 1 enemy |
List of Skills

Skill
Cost
Effect
Level
Maziodyne
32 MP
Heavy elec damage to all foes.
Innate
Stun Needles
14 MP
1 to 3 hits of medium gun damage and 60% bind to multiple foes.
62
Myriad Arrows
30 MP
2 to 4 hits of weak gun damage to multiple foes.
63
Shin Megami Tensei IV ApocalypseEdit
Race

Level

HP

MP

| | | |
| --- | --- | --- |
| Strength | 66 | |
| Dexterity | 106 | |
| Magic | 55 | |
| Agility | 80 | |
| Luck | 69 | |

Wood
70
659
227
| Phys | Gun | Fire | Ice | Elec | Force | Light | Dark |
| --- | --- | --- | --- | --- | --- | --- | --- |
| - | Repel | Weak | - | Resist | Weak | - | Null |
| | |
| --- | --- |
| Ailment Resistance | Resist:Daze |
| | |
| --- | --- |
| Normal Attack | Phys x1, 1 enemy |
List of Skills

Skill
Cost
Effect
Level
Maziodyne
48 MP
Heavy elec damage to all foes.
Innate
Stun Needles
22 MP
1 to 3 hits of medium gun damage and 60% bind to multiple foes.
Innate
Endure
Auto
Survives with 1 HP restored after suffering a fatal blow once per battle.
71
Null Elec
Auto
Nullifies elec damage.
72
Myriad Arrows
28 MP
2 to 4 hits of medium gun damage to multiple foes.
73
Devil Summoner: Soul HackersEdit
| Race | Level | HP | MP | CP | MAG Summon |
| --- | --- | --- | --- | --- | --- |
| Wood | 50 | 385 | 174 | 15 | 1194 |

| Strength | Intelligence | Magic | Endurance | Agility | Luck |
| --- | --- | --- | --- | --- | --- |
| 12 | 14 | 17 | 9 | 7 | 8 |
| Personality | Phys Attack | Phys Hit | Mgc Attack | Mgc Hit | Base Defense | Avoid |
| --- | --- | --- | --- | --- | --- | --- |
| Sly | 124 | 79 | 154 | 44 | 134 | 79 |
| Resist | Void | Absorb | Reflect | Weak |
| --- | --- | --- | --- | --- |
| - | Expel, Death | - | - | Fire |