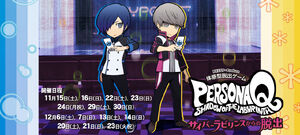 Escape From Persona Q: Cyber Labyrinth is an escape game based on Persona Q: Shadow of the Labyrinth.
A real life game that will be featured in Tokyo's Joypolis Amusement Park from November 15th to December 23rd. Projection mapping will be used as a means to form a "cyber labyrinth" for participants to navigate through, where they will join forces to fight against Shadows and escape the labyrinth. The time limit is one hundred minutes.
External Links
Edit
Ad blocker interference detected!
Wikia is a free-to-use site that makes money from advertising. We have a modified experience for viewers using ad blockers

Wikia is not accessible if you've made further modifications. Remove the custom ad blocker rule(s) and the page will load as expected.