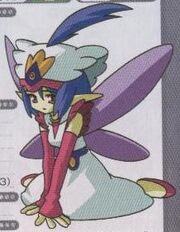 Etain (エーティン, Eetin or エーディン) is a demon in the series.
Originally a sun goddess of Irish myth. She was the second wife of Midir of the Tuatha De Danann. Midir's first wife Fuamnach turns her into a butterfly out of jealousy. She is later swallowed and reborn.
Appearances
Edit
Demikids Light & DarkEdit
Known as Erdin in the game. She can perform the Wind Combo Hurricane with Neo Gef that damages foes for 25 MP. She has the power WindWall, which reflects wind based attacks.
DemiKids Light & DarkEdit
| Class | Element | Type | Exp | Level | HP | MP |
| --- | --- | --- | --- | --- | --- | --- |
| Elite | Wind | Alternate | 460 | 33 | 354 | 182 |

| ATK | DEF | MGC | RES | SPD | LCK |
| --- | --- | --- | --- | --- | --- |
| 30 | 26 | 32 | 28 | 29 | 26 |
List of Skills

Skill
Element
Cost
Effect
Cycloblast
Wind
20 MP
Medium dmg. Foes
Healmor All
Light
18 MP
Major HP recovery. Party
Spellguard
Light
6 MP
RES Up. Party
Revive
Light
18 MP
Revive. 1 Ally
Distract
Dark
6 MP
Tempt. 1 Foe
Sonic Boom
Wind
23 HP
Small dmg. Foes
Devil Children Fire/Ice BookEdit
| Class | Element | Type | Exp | Level | HP | MP |
| --- | --- | --- | --- | --- | --- | --- |
| Elite | Wind | Alternate | 460 | 33 | 354 | 182 |

| ATK | DEF | MGC | RES | SPD | LCK |
| --- | --- | --- | --- | --- | --- |
| 30 | 26 | 32 | 28 | 29 | 26 |