Excalibur
Talk

0
3,307pages on
this wiki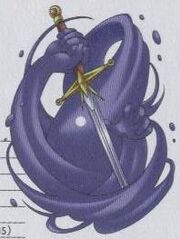 Excalibur (エクスカリバー, Ekusukaribaa) is a demon and weapon in the series.
The legendary blade wielded by King Arthur, said to have magical properties or represent a king's right to rule over all of Great Britain. In some versions the sword in the stone and Excalibur are the same thing but in most they are separate. The Lady in the Lake is the one who gives Arthur the sword in the versions where it is not the sword in the stone. The attributes of Excalibur include words engraved don opposite sides of the blade, a scabbard that will prevent death by wounds or not bleed at all, and the power to create a light that blinds his enemies when he pulls the sword from the stone.
Appearances
Edit
Shin Megami Tensei IVEdit
Excalibur is obtained upon completing the Challenge Quest The Cauldron.
Persona 2: Innocent SinEdit
Excalibur is a weapon for Tatsuya Suou, obtained by returning Arthur at max rank.
| Class | Element | Type | Exp | Level | HP | MP |
| --- | --- | --- | --- | --- | --- | --- |
| King | Sun | Mute | 890 | 46 | 490 | 220 |

| ATK | DEF | MGC | RES | SPD | LCK |
| --- | --- | --- | --- | --- | --- |
| 48 | 45 | 41 | 40 | 40 | 44 |