Ad blocker interference detected!
Wikia is a free-to-use site that makes money from advertising. We have a modified experience for viewers using ad blockers

Wikia is not accessible if you've made further modifications. Remove the custom ad blocker rule(s) and the page will load as expected.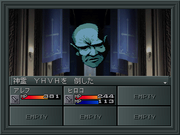 Fake YHVH (YHVH(偽), YHVH (Nise))? is a demon in the series.
Appearances
Edit
Personality
Edit
He has a trait that, ironically, is shared with the real YHVH, which shows that they were not so different in terms of personality.
Shin Megami Tensei IIEdit
The product of the raw faith of the Elders that was so monstrously strong, and their minds so hopelessly twisted, that the three archangels managed to give life to a "false God", a fake YHVH.
However, due to being only the product of the Center's Elders distorted sense of faith, his powers were incomparably inferior to the original's, and as such, he was destroyed, along with the archangels, by Aleph in an arduous combat, but not before cursing them with all his might before finally disintegrating for good. Albeit with some slight notable aesthetic differences, he displays the exact same appearance of the real YHVH.
Shin Megami Tensei IIEdit
| MAG | NOA | ATK | ACC | DEF | EVA | M.ATK | M.EFC |
| --- | --- | --- | --- | --- | --- | --- | --- |
| 3864 | 1-3 | 188 | 127 | 172 | 125 | 25 | 25 |

| | | |
| --- | --- | --- |
| St | 25 | |
| In | 20 | |
| Ma | 20 | |
| Vi | 17 | |
| Ag | 15 | |
| Lu | 11 | |
Swd
Gun
Fir
Ice
Elc
For
Nrv
Exp
Crs
Mgc
Bnd
Rsh
Hnd
Leg
Fly
Alm

7

/

8
Nu
-

5

/

8

5

/

8
-
Nu

½

Rf

½

Rf

½

Rf

½

Rf

4

/

8

4

/

8

4

/

8

4

/

8
-
List of Skills

Skill
Effect
Mabufula
Medium ice damage to a group of foes.
Maragion
Medium fire damage to a group of foes.
Mazionga
Medium electrical damage to a group of foes.
Mazanma
Medium force damage to a group of foes.
Megidolaon
Heavy Almighty damage to all foes.
Mouth of God (False)
Inflicts Bind to the foe with the lowest Intelligence. (Non-elemental. Boss only)