Ad blocker interference detected!
Wikia is a free-to-use site that makes money from advertising. We have a modified experience for viewers using ad blockers

Wikia is not accessible if you've made further modifications. Remove the custom ad blocker rule(s) and the page will load as expected.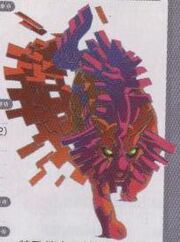 Flare Element (フレアエレメント, Fureaeremento) is a demon in the series.
One of the four classical elements.
Appearances
Edit
Demikids: Light & DarkEdit
Known as Flarlok in the game. Flarlok can be found in the Southeast part of the Rainy Woods. Flarlok has the Thick Hide power and can use the Fire Combo Fiery Impact with Rhanda that damages foes for 35 MP.
DemiKids: Light/Dark VersionEdit
| Class | Element | Type | Exp | Level | HP | MP |
| --- | --- | --- | --- | --- | --- | --- |
| Common | Fire | Ghost | 615 | 39 | 415 | 184 |

| ATK | DEF | MGC | RES | SPD | LCK |
| --- | --- | --- | --- | --- | --- |
| 39 | 34 | 33 | 34 | 35 | 32 |
List of Skills

Skill
Element
Cost
Effect
Pyrolok
Fire
15 MP
Large dmg. 1 Foe
TNT Flare
Fire
32 HP
Hitx2 +Bomb. 1 Foe
Powerboost
Light
6 MP
ATK Up. Party
Spellboost
Light
6 MP
MGC Up. Party
Spellprone
Dark
5 MP
RES Down. Foes
Pyromax
Fire
45 MP
Large dmg x2. Foes
Devil Children Fire/Ice BookEdit
| Class | Element | Type | Exp | Level | HP | MP |
| --- | --- | --- | --- | --- | --- | --- |
| Common | Fire | Ghost | 615 | 39 | 415 | 184 |

| ATK | DEF | MGC | RES | SPD | LCK |
| --- | --- | --- | --- | --- | --- |
| 39 | 34 | 33 | 34 | 35 | 32 |