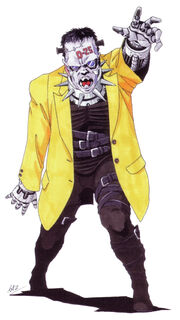 Franken (フランケン, Furanken)? is a demon in the series.
Frankenstein's monster (or Frankenstein's creature, often incorrectly referred to as Frankenstein) is a fictional character that first appeared in Mary Shelley's novel, Frankenstein, or The Modern Prometheus. The monster is a golem or homunculus created via alchemy, while popular incarnations show or describe the Monster often being created from freshly deceased cadavers and advances in the study of biochemistry and bio-electrical conduction.
Appearances
Edit
Devil Children Red/Black BookEdit
Franken can be obtained in Red Book by beating Setsuna Kai at BattleNet.
DemiKids Light & DarkEdit
"

A powerful and fearsome cyborg created by a renowned mad scientist from Dem.

"
—DemiKids Demonary
Known as Morton, they can be found throughout Dem and Rem in towns. In the Dead Future of Rem a Morton will be in the fusion room. He will mention a Lemon, Melon, and Strawberry in conversations. When the Protagonist has collected all three and then talk to Morton he will fuse the three Icy demons together to make the Icy Trio, then disappear. He will also be gone when the future is changed, so one must do it before then.
Shin Megami Tensei IIEdit
| CP | NOA | ATK | ACC | DEF | EVA | M.ATK | M.EFC |
| --- | --- | --- | --- | --- | --- | --- | --- |
| 18 | 1 | 52 | 31 | 44 | 29 | 6 | 6 |

| | | |
| --- | --- | --- |
| St | 10 | |
| In | 5 | |
| Ma | 5 | |
| Vi | 6 | |
| Ag | 3 | |
| Lu | 6 | |
| Swd | Gun | Fir | Ice | Elc | For | Nrv | Exp | Crs | Mgc | Bnd | Rsh | Hnd | Leg | Fly | Alm |
| --- | --- | --- | --- | --- | --- | --- | --- | --- | --- | --- | --- | --- | --- | --- | --- |
| - | - | - | - | - | - | - | Nu | - | - | - | - | - | - | - | - |
List of Skills

Skill
Cost
Effect
Punch
3% HP
Light Punch attack to one foe.
Berserk
15% HP
Light Rush damage to all foes.
Guard
-
User takes half damage for the rest of the turn. (Enemy only)
Devil Children Black/Red BookEdit
| Class | Element | Type | Level | HP | MP | Exp |
| --- | --- | --- | --- | --- | --- | --- |
| King | Thunder | Alternate | 30 | 328 | 140 | 378 |
| ATK | DEF | MGC | RES | SPD | LCK |
| --- | --- | --- | --- | --- | --- |
| 29 | 28 | 25 | 25 | 24 | 23 |
List of Skills

Lightning Thrust
Thunderbolt
Tarukaja
Mamagna
Rakukaja
Mazio
Devil Children Black Book/Red Book (PS)Edit
| Class | Element | Type | Level | HP | MP | Exp |
| --- | --- | --- | --- | --- | --- | --- |
| King | Thunder | Alternate | 30 | 328 | 140 | 378 |
| ATK | DEF | MGC | RES | SPD | LCK |
| --- | --- | --- | --- | --- | --- |
| 29 | 28 | 25 | 25 | 24 | 23 |
List of Skills

Lightning Thrust
Thunderbolt
Tarukaja
Mamagna
Rakukaja
Mazio
Devil Children White BookEdit
| Class | Element | Type | Level | HP | MP | Exp |
| --- | --- | --- | --- | --- | --- | --- |
| King | Thunder | Alternate | 30 | 328 | 140 | 378 |
| ATK | DEF | MGC | RES | SPD | LCK |
| --- | --- | --- | --- | --- | --- |
| 29 | 28 | 25 | 25 | 24 | 23 |
List of Skills

Lightning Thrust
Thunderbolt
Tarukaja
Mamagna
Rakukaja
Mazio
DemiKids Light & DarkEdit
| Class | Element | Type | Level | HP | MP | Exp |
| --- | --- | --- | --- | --- | --- | --- |
| Common | Thunder | Alternate | 30 | 318 | 139 | 374 |

| ATK | DEF | MGC | RES | SPD | LCK |
| --- | --- | --- | --- | --- | --- |
| 27 | 24 | 25 | 22 | 24 | 28 |
List of Skills

Skill
Element
Cost
Effect
Shock Stab
Thunder
15 HP
Small dmg +Shock. 1 Foe
Thunderbolt
Thunder
23 HP
Small dmg +Shock. 2 Foes
Powerboost
Light
6 MP
ATK Up. Party
Petradeus
Earth
8 MP
Small dmg. 2 Foes
Defboost
Light
6 MP
DEF Up. Party
Shockdeus
Thunder
8 MP
Small dmg. 2 Foes
Devil Children Fire/Ice BookEdit
| Class | Element | Type | Level | HP | MP | Exp |
| --- | --- | --- | --- | --- | --- | --- |
| Common | Thunder | Alternate | 30 | 318 | 139 | 374 |

| ATK | DEF | MGC | RES | SPD | LCK |
| --- | --- | --- | --- | --- | --- |
| 27 | 24 | 25 | 22 | 24 | 28 |
List of Skills

Lightning Thrust
Thunderbolt
Tarukaja
Mamagna
Rakukaja
Mazio
Devil Children Messiah RiserEdit
| Number | Element | Weakness | Type | Level | HP | MP |
| --- | --- | --- | --- | --- | --- | --- |
| 76 | Thunder | Earth | Alternate | 15 | 150 | 100 |
| ATK | MGC | DEF | RES | SPD | Quick | Call | Spell |
| --- | --- | --- | --- | --- | --- | --- | --- |
| 17 | 4 | 0 | 0 | 10 | 26 | 10 | Zio |