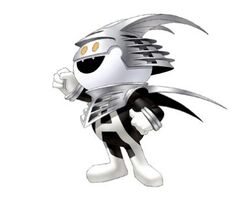 Frost Ace (フロストエース, Furosutoēsu)? is a demon in the series.
Appearances
Edit
Shin Megami Tensei IMAGINEEdit
Frost Ace was the central character in the first part of IMAGINE's seventh anniversary event. Players joined a Jack Frost NPC on a ride up an elevator when he suddenly transformed into Frost Ace. After his transformation he attempts to take on Alice, who easily swats him away. He later attempts to fight another Frost Ace, only for that Frost Ace's true identity to be the Mother Harlot, who easily beats him in her Frost Ace disguise. When she is weakened by the battle with the human players, a second Frost Ace appears, defeating her and avenging his fallen comrade.
His boss theme "(燃える!フロストエース, Moeru! Furosutoēsu)?" is reminiscent of tokusatsu sentai show and even received a parody opening movie with lyrics on one of the event's special pages. According to a 4Gamer interview with IMAGINE's composers, Frost Ace's theme was primarily inspired by theme songs used in 1970's tokusatsu and henshin anime, specifically Kamen Rider Stronger, Devilman and Yatterman.
By defeating him, players were able to acquire his plug-in item to perform a special double-fusion of Tam Lin and Jack Frost to create him.
He was later added as a boss fight in Abyss Tower where he had a chance of dropping his transformation belt, a piece of equipment that boosted expertise gain for players.
Shin Megami Tensei: Strange JourneyEdit
"Thirsting for revenge, Jack Frost donned his Ice Vest to become the dark hero known as... Frost Ace. What will his sorrow frozen heart choose? Will it be Vengeance? Mercy? The gears of Fate continue to toy with him..."
—Shin Megami Tensei: Strange Journey compendium
He first appears as a lowly Jack Frost in Sector Carina's basement mourning his family. He begs the protagonist to get him an Ice Vest so he can become powerful and get revenge; upon obtaining it, he transforms into Frost Ace and grants his benefactor the Frost Ace Special Fusion and the Frost Cannon before leaving to seek vengeance. His special fusion consists of Jack Frost, Tam Lin and Power.
Shin Megami Tensei IVEdit
"Jack Frost after he donned his Ice Vest and transformed into a superhero.
Little is known about him, but rumors says he was involved in a tragic incident and now burns with vengeance, though his heart is still frozen in sorrow. As Fate toys with the dark hero, what path will be choose? Mercy? Or vengeance?
Still unable to come up with an answer, he continues his long battle, hiding that cool, cute face of his behind the mask."
—Shin Megami Tensei IV compendium
Frost Ace can be summoned through special fusion using a combination of Jack Frost, Tam Lin and Power. He can teach Flynn the Mabufula and Purple Smoke skills through his Demon Whisper.
Shin Megami Tensei IV ApocalypseEdit
Frost Ace can be fused through a special fusion of Jack Frost, Tam Lin and Power. He can teach Nanashi the Mabufula, Purple Smoke, Hamaon and Bufudyne skills through his Demon Whisper. Frost Ace benefits from learning Ice and Light skills.
Devil Children Red/Black BookEdit
Frost Ace can be ranked fuse six times in order to have him rank up to King Frost.
DemiKids Light/Dark VersionEdit
Known as Icy Ace in the game. He can perform the Ice Combo Blizzard with J. Frost. Icy Ace also knows another Ice Combo Freeze Wave, which is performed with King Icy. Icy Ace serves as the Military for DemIce.
Shin Megami Tensei: Strange JourneyEdit
Race

Alignment

Level

HP

MP

| | | |
| --- | --- | --- |
| Strength | 27 | |
| Magic | 25 | |
| Vitality | 25 | |
| Agility | 25 | |
| Luck | 22 | |

Genma
Light-Neutral
34
311
170
| Attack Type | | | | | | | | | |
| --- | --- | --- | --- | --- | --- | --- | --- | --- | --- |
| Single foe/1/Physical/None | - | - | Reflect | Reflect | - | - | Null | - | - |
| Poison | Paralyze | Stone | Strain | Sleep | Charm | Mute | Fear | Bomb | Rage |
| --- | --- | --- | --- | --- | --- | --- | --- | --- | --- |
| - | - | - | - | - | - | - | - | - | - |
D-Source Skills
Hamaon
Bufudyne
Life Bonus
Password
37n#9FTiOBLi-cmJ
HY2eR6vig#vjJ7mn
Shin Megami Tensei IVEdit
Race

Level

HP

MP

| | | |
| --- | --- | --- |
| Strength | 40 | |
| Dexterity | 37 | |
| Magic | 37 | |
| Agility | 48 | |
| Luck | 40 | |

Genma
34
308
138
| Phys | Gun | Fire | Ice | Elec | Force | Light | Dark |
| --- | --- | --- | --- | --- | --- | --- | --- |
| - | - | Repel | Repel | - | - | - | - |
| | |
| --- | --- |
| Normal Attack | Phys x1, 1 enemy |
List of Skills

Skill
Cost
Effect
Level
Mabufula
20 MP
Medium ice damage to all foes.
Innate
Ice Pleroma
Auto
Boosts ice attack by 25%.
Innate
Purple Smoke
14 MP
1 to 3 hits of medium physical damage and 70% panic to multiple foes.
35
Shin Megami Tensei IV ApocalypseEdit
Race

Level

HP

MP

| | | |
| --- | --- | --- |
| Strength | 52 | |
| Dexterity | 37 | |
| Magic | 52 | |
| Agility | 62 | |
| Luck | 52 | |

Genma
42
390
230
| Phys | Gun | Fire | Ice | Elec | Force | Light | Dark |
| --- | --- | --- | --- | --- | --- | --- | --- |
| - | - | Resist | Null | - | - | Null | Weak |
| | |
| --- | --- |
| Normal Attack | Phys x1, 1 enemy |
List of Skills

Skill
Cost
Effect
Level
Mabufula
24 MP
Medium ice damage to all foes.
Innate
Purple Smoke
22 MP
1 to 3 hits of medium physical damage and 70% panic to multiple foes.
Innate
Ice Pleroma
Auto
Boosts ice attack by 25%.
Innate
Hamaon
12 MP
Heavy light damage to one foe.

Smirk

+55% instant death
43
Bufudyne
20 MP
Heavy ice damage to one foe.
44
Devil Children Red/Black BookEdit
| Class | Element | Type | Exp | Level | HP | MP |
| --- | --- | --- | --- | --- | --- | --- |
| General | Water | Fiend | 199 | 22 | 229 | 103 |
| ATK | DEF | MGC | RES | SPD | LCK |
| --- | --- | --- | --- | --- | --- |
| 20 | 18 | 17 | 16 | 18 | 19 |
Devil Children Black Book/Red Book (PS)Edit
| Class | Element | Type | Exp | Level | HP | MP |
| --- | --- | --- | --- | --- | --- | --- |
| General | Water | Fiend | 199 | 22 | 229 | 103 |
| ATK | DEF | MGC | RES | SPD | LCK |
| --- | --- | --- | --- | --- | --- |
| 20 | 18 | 17 | 16 | 18 | 19 |
Devil Children White BookEdit
| Class | Element | Type | Exp | Level | HP | MP |
| --- | --- | --- | --- | --- | --- | --- |
| General | Water | Fiend | 199 | 22 | 229 | 103 |
| ATK | DEF | MGC | RES | SPD | LCK |
| --- | --- | --- | --- | --- | --- |
| 20 | 18 | 17 | 16 | 18 | 19 |
DemiKids Light & DarkEdit
| Class | Element | Type | Exp | Level | HP | MP |
| --- | --- | --- | --- | --- | --- | --- |
| General | Ice | Fiend | 230 | 23 | 235 | 112 |

| ATK | DEF | MGC | RES | SPD | LCK |
| --- | --- | --- | --- | --- | --- |
| 22 | 18 | 17 | 17 | 19 | 18 |
List of Skills

Skill
Element
Cost
Effect
Cold Voice
Ice
20 HP
Small dmg +Mute. 1 Foe
Spellboost
Light
6 MP
MGC Up. Party
Heal All
Light
12 MP
Minor HP recovery. Party
Polarburst
Ice
10 MP
Medium dmg +Freeze. 1 Foe
Healmax
Light
20 MP
Full HP recovery. 1 Ally
Polardeus
Ice
8 MP
Small dmg +Freeze. 2 Foes
Devil Children Fire/Ice BookEdit
| Class | Element | Type | Exp | Level | HP | MP |
| --- | --- | --- | --- | --- | --- | --- |
| General | Ice | Fiend | 230 | 23 | 235 | 112 |

| ATK | DEF | MGC | RES | SPD | LCK |
| --- | --- | --- | --- | --- | --- |
| 22 | 18 | 17 | 17 | 19 | 18 |