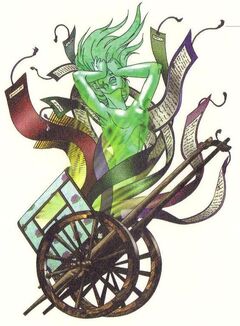 Fuguruma (フグルマ?) is a demon in the series.
A fuguruma is a box-cart/boxed vehicle that was used to transport books from the imperial palace and temples in times of emergency, like during accidental fires. In a ghost story from the "Shokoku Hyaku Monogatari", a page at a temple receives a love letter which he throws away. The garbage pail he tosses it into transforms into an Oni and attacks people, but it's also said that a garbage pail containing the same sort of letter that becomes a yokai is also called a Fuguruma Youbi.
Appearances
Edit
Shin Megami Tensei: Devil SummonerEdit
Fuguruma is the first "true" boss of the game. She is found in the Public Library.
Shin Megami Tensei: Devil SummonerEdit
| Race | Level | HP | MP | St | In | Ma | Ag | Lu |
| --- | --- | --- | --- | --- | --- | --- | --- | --- |
| Femme | 12 | 90 | 60 | 4 | 7 | 7 | 5 | 3 |

| NOA | P.ATK | P.HIT | B.DEF | AVD | M.ATK | M.DEF |
| --- | --- | --- | --- | --- | --- | --- |
| 1 | 32 | 24 | 34 | 24 | 16 | 16 |