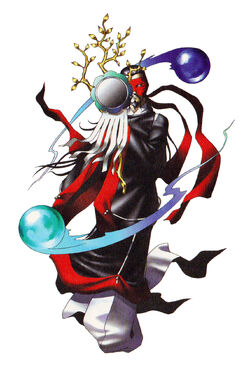 "

...A country to the east, of the rising sun, was for a time engulfed in darkness. To see the darkness of this world puts me in mind of that land. Son of man, thou dost wish to become the light to cut through darkness? I will measure thy strength!

"
—Futotama, Shin Megami Tensei: Strange Journey
Futotama , Ame no Futotama no Mikoto, or Ame no Futotama (アメノフトタマ?), is a recurring demon in the series.
Heavenly god who accompanied Ninigi-no-Mikoto when he descended to Earth. He is considered to be the ancestor of the priestly family who served as Shinto ritualists at the Yamato court.
Appearances
Edit
Shin Megami Tensei: Strange JourneyEdit
"

Fully known as Ame no Futotama, he is a god of Japanese origin who governs divination and religious services. He is said to be the divine ancestor of the Inbe clan.

"
—Shin Megami Tensei: Strange Journey compendium
In Strange Journey, Futotama will appear as Ame no Uzume's companion in the task of finding and retrieving Lady Amaterasu, who has gotten lost in the immensity of the Schwarzwelt. After talking to Ame no Uzume in Sector Eridanus and agreeing to collaborate in the search, she will point out to look out for Futotama, who himself appears in Sector Fornax.
Once the protagonist has made contact with Futotama, he will provide the protagonist with a special mirror able to pierce illusions and reveal the truth. Upon confronting Kinmamon in Sector Eridanus after collecting the mirror, the illusion will fail and she will be revealed as a confused Amaterasu. Futotama and Ame no Uzume appear, thankful for finding their mistress before she got in trouble.
Shin Megami Tensei IVEdit
Futotama is the client in the Challenge Quest, Resurrection of the Kousoushin. He resides in the Mejiji Shrine found in the Shinjuku region and receives a divination of Flynn's arrival, who is to be the hope of the Amatsu. Introducing himself as part of the ruling class of his race, he speaks of how they are being trampled upon by the demons who wish to take Tokyo away from the Amatsu and wishes for the freedom of Amaterasu in order to preserve their kind from facing extinction. Futotama mentions the three sacred treasures which will revive her. Once the three are collected he asks Flynn to offer the treasures at the Tokyo Castle Ruins, which lies north of Kasumigaseki.
Once Amaterasu is freed he suggests she leave for now in order to regain her strength so she can return and lead the Japanese gods in saving the barren land of Tokyo. Flynn obtains a portion of Futotama's power in the form of Torifune's Shawl so that he can fly.
Futotama can be summoned through a special fusion of Nue, Mishaguji and Tsuchigumo. He can teach Flynn the Makarakarn skill through his Demon Whisper.
Shin Megami Tensei IV ApocalypseEdit
Futotama can can be fused through a special fusion of Nue, Mishaguji and Tsuchigumo. He can teach Nanashi the Makarakarn skill through his Demon Whisper. Futotama has no skill affinities and does not benefit from learning any skills, however as a result he does not receive any penalties with certain affinities either.
Devil Summoner: Soul HackersEdit
"Fully known as Ame no Futotama, he is a god of Japanese origin who governs divination and religious services. He is said to be the divine ancestor of the Inbe clan.
When Amaterasu was hiding and the world was covered in darkness, he was the one who performed the Futomani, a divination using the bones of a deer."
—Devil Summoner: Soul Hackers 3DS compendium
Shin Megami Tensei: Strange JourneyEdit
Race

Alignment

Level

HP

MP

| | | |
| --- | --- | --- |
| Strength | 27 | |
| Magic | 33 | |
| Vitality | 30 | |
| Agility | 26 | |
| Luck | 30 | |

Enigma
Light-Neutral
42
376
211
| Attack Type | | | | | | | | | |
| --- | --- | --- | --- | --- | --- | --- | --- | --- | --- |
| All Foes/1/Physical/None | - | - | - | - | - | - | Null | Null | - |
| Poison | Paralyze | Stone | Strain | Sleep | Charm | Mute | Fear | Bomb | Rage |
| --- | --- | --- | --- | --- | --- | --- | --- | --- | --- |
| - | - | - | - | - | - | - | - | - | - |
D-Source Skills
Mediarama
Tables Turned
Recovery Amp
Item Drops
Enigma Himorogi
Dis-Stone
Bead
Password
s6TNaSa#Q0TCtbTN


JcLSHuttH6TNOrTi
Shin Megami Tensei IVEdit
Race

Level

HP

MP

| | | |
| --- | --- | --- |
| Strength | 42 | |
| Dexterity | 46 | |
| Magic | 60 | |
| Agility | 39 | |
| Luck | 55 | |

Enigma
42
244
237
| Phys | Gun | Fire | Ice | Elec | Force | Light | Dark |
| --- | --- | --- | --- | --- | --- | --- | --- |
| - | - | - | - | - | - | Null | Null |
| | |
| --- | --- |
| Normal Attack | Phys x1, all enemies |
List of Skills

Skill
Cost
Effect
Level
Healing Knowhow
Auto
Allows equipper to use healing items in battle.
Innate
Sabbatma
20 MP
Summons or returns another allied demon.
Innate
Makarakarn
50 MP
Bestows magic-repelling shields for one turn to all allies.
Innate
Hard Worker
Auto
Increases experience points received after battles.
43
Mana Gain
Auto
Increases max MP by 20%.
45
Shin Megami Tensei IV ApocalypseEdit
Race

Level

HP

MP

| | | |
| --- | --- | --- |
| Strength | 35 | |
| Dexterity | 46 | |
| Magic | 83 | |
| Agility | 61 | |
| Luck | 67 | |

Enigma
50
381
325
| Phys | Gun | Fire | Ice | Elec | Force | Light | Dark |
| --- | --- | --- | --- | --- | --- | --- | --- |
| - | - | - | - | - | Weak | Resist | Resist |
| | |
| --- | --- |
| Normal Attack | Phys x1, All enemies |
List of Skills

Skill
Cost
Effect
Level
Healing Knowhow
Auto
Allows equipper to use healing items in battle.
Innate
Attack Knowhow
Auto
Allows equipper to use attack items in battle.
Innate
Workaholic
Auto
Greatly increases experience points received after battles.
51
Sabbatma
20 MP
Summons or returns another allied demon .
52
Makarakarn
50 MP
Bestows magic-repelling shields for one turn to all allies.
53
Devil Summoner: Soul HackersEdit
| Race | Level | HP | MP | St | In | Ma | En | Ag | Lu |
| --- | --- | --- | --- | --- | --- | --- | --- | --- | --- |
| Enigma | 23 | 243 | 126 | 7 | 9 | 13 | 7 | 5 | 6 |

| CP | MAG Summon | Personality | P.ATK | P.HIT | B.DEF | AVD | M.ATK | M.HIT |
| --- | --- | --- | --- | --- | --- | --- | --- | --- |
| 5 | 366 | Kind | 60 | 37 | 76 | 37 | 113 | 30 |
| Reflects | Absorbs | Void | Resists | Weak |
| --- | --- | --- | --- | --- |
| - | - | Expel, Death | All | - |