Ad blocker interference detected!
Wikia is a free-to-use site that makes money from advertising. We have a modified experience for viewers using ad blockers

Wikia is not accessible if you've made further modifications. Remove the custom ad blocker rule(s) and the page will load as expected.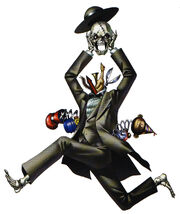 Galley Beggar (ギャリーベガー) is a demon appearing in the series.
A frightening apparition that appears in dark areas or at night and frightens people while looking for its missing head.
Appearances
Edit
Devil Summoner: Soul HackersEdit
"

A ghost that appears in northern England, looking like a skeleton with a severed head, which it carries. Its head lets out an eerie laugh as it frightens those who see it.

"
—Devil Summoner: Soul Hackers Compendium
Devil Summoner: Soul HackersEdit
| Race | Level | HP | MP | CP | MAG Summon |
| --- | --- | --- | --- | --- | --- |
| Brute | 30 | 255 | 78 | 6 | 477 |

| Strength | Intelligence | Magic | Endurance | Agility | Luck |
| --- | --- | --- | --- | --- | --- |
| 11 | 5 | 7 | 9 | 8 | 7 |
| Personality | Phys Attack | Phys Hit | Mgc Attack | Mgc Hit | Base Defense | Avoid |
| --- | --- | --- | --- | --- | --- | --- |
| Dumb | 82 | 49 | 59 | 16 | 94 | 48 |
| Resist | Void | Absorb | Reflect | Weak |
| --- | --- | --- | --- | --- |
| - | Death | - | Elec | - |