Ad blocker interference detected!
Wikia is a free-to-use site that makes money from advertising. We have a modified experience for viewers using ad blockers

Wikia is not accessible if you've made further modifications. Remove the custom ad blocker rule(s) and the page will load as expected.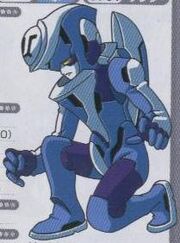 Gambiel (ガムビエル, Gamubieru) is a demon in the series.
Ruler of the zodiac sign of Aquarius, as cited in Camfield, A Theological Discourse of Angels. He is also mention in The Sixth and Seventh Books of Moses as a zodiacal angel.
Appearances
Edit
DemiKids: Light & DarkEdit
"

A demon who turned from good to evil. Currently rules over the House of Aquarius.

"
Known as Aquarios.
DemiKids: Light & DarkEdit
| Class | Element | Type | Exp | Level | HP | MP |
| --- | --- | --- | --- | --- | --- | --- |
| Common | Water | Holy | | 13 | 128 | 62 |

| ATK | DEF | MGC | RES | SPD | LCK |
| --- | --- | --- | --- | --- | --- |
| 12 | 10 | 14 | 11 | 14 | 10 |
List of Skills

Skill
Element
Cost
Effect
Ice Pillar
Ice
18 HP
Small dmg. 1 Foe
Cold Voice
Ice
20 HP
Small dmg +Mute. 1 Foe
Heal
Light
5 MP
Minor HP recovery. 1 Ally
Frostbite
Ice
15 HP
Small dmg +Freeze. 1 Foe
Defboost
Light
6 MP
DEF Up. Party
Ice Breath
Ice
23 HP
Small dmg +Freeze. 2 Foes
Devil Children Fire/Ice BookEdit
| Class | Element | Type | Exp | Level | HP | MP |
| --- | --- | --- | --- | --- | --- | --- |
| Common | Water | Holy | | 13 | 128 | 62 |

| ATK | DEF | MGC | RES | SPD | LCK |
| --- | --- | --- | --- | --- | --- |
| 12 | 10 | 14 | 11 | 14 | 10 |