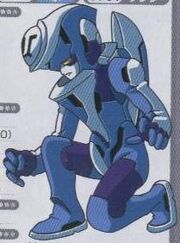 Gambiel (ガムビエル, Gamubieru) is a demon in the series.
Ruler of the zodiac sign of Aquarius, as cited in Camfield, A Theological Discourse of Angels. He is also mention in The Sixth and Seventh Books of Moses as a zodiacal angel.
Appearances
Edit
DemiKids: Light & DarkEdit
"A demon who turned from good to evil. Currently rules over the House of Aquarius."
Known as Aquarios.
DemiKids: Light & DarkEdit
| Class | Element | Type | Exp | Level | HP | MP |
| --- | --- | --- | --- | --- | --- | --- |
| Common | Water | Holy | | 13 | 128 | 62 |

| ATK | DEF | MGC | RES | SPD | LCK |
| --- | --- | --- | --- | --- | --- |
| 12 | 10 | 14 | 11 | 14 | 10 |
List of Skills

Skill
Element
Cost
Effect
Ice Pillar
Ice
18 HP
Small dmg. 1 Foe
Cold Voice
Ice
20 HP
Small dmg +Mute. 1 Foe
Heal
Light
5 MP
Minor HP recovery. 1 Ally
Frostbite
Ice
15 HP
Small dmg +Freeze. 1 Foe
Defboost
Light
6 MP
DEF Up. Party
Ice Breath
Ice
23 HP
Small dmg +Freeze. 2 Foes
Devil Children Fire/Ice BookEdit
| Class | Element | Type | Exp | Level | HP | MP |
| --- | --- | --- | --- | --- | --- | --- |
| Common | Water | Holy | | 13 | 128 | 62 |

| ATK | DEF | MGC | RES | SPD | LCK |
| --- | --- | --- | --- | --- | --- |
| 12 | 10 | 14 | 11 | 14 | 10 |