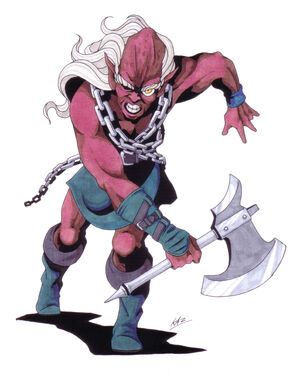 Giant (ジャイアント?) is a demon in the series.
Giants have been recognized as a mythological figure since the dawn of time. There are numerous accounts of gigantic humanoids in myths worldwide.
Appearances
Edit
Shin Megami TenseiEdit

"Origin: Europe. Gigantic beings that appear in legends. These include the one-eyed Cyclops, the hundred-armed Hecatoncheires, the Fomoire, and the Titans. They are deeply involved in the history of famous gods as well."
—Shin Megami Tensei A-Mode DDS Dictionary
Last Bible IIEdit
Appears as Gigant and Gigant Zombie.
Last Bible IIIEdit
Appears as Giant, Gigant (ギガント), and Death Gigant.
Megami Tensei IIEdit
| Stamina | Intelligence | Attack | Agility | Luck | Defense |
| --- | --- | --- | --- | --- | --- |
| 17 | 10 | 13 | 9 | 13 | 9 |
Kyūyaku Megami TenseiEdit
Megami TenseiEdit
| Race | Level | HP | MP | VIT | INT | STR | SPD | LUC | DEF |
| --- | --- | --- | --- | --- | --- | --- | --- | --- | --- |
| Jirae | 38 | 233 | - | 12 | 12 | 13 | 13 | 11 | 18 |
Megami Tensei IIEdit
| Race | Level | HP | MP | VIT | INT | STR | SPD | LUC | DEF |
| --- | --- | --- | --- | --- | --- | --- | --- | --- | --- |
| Jirae | 34 | 293 | 44 | 17 | 10 | 13 | 9 | 9 | 13 |
List of Spells

Skill
Cost
Effect
Rakukaja
4 MP
Increase defense (all allies)
Shin Megami TenseiEdit
| CP | NOA | ATK | ACC | DEF | EVA | M.ATK | M.EFC |
| --- | --- | --- | --- | --- | --- | --- | --- |
| 25 | 1-5 | 106 | 17 | 64 | 12 | 12 | 11 |

| | | |
| --- | --- | --- |
| St | 24 | |
| In | 10 | |
| Ma | 11 | |
| Vi | 22 | |
| Ag | 11 | |
| Lu | 11 | |
| | | | |
| --- | --- | --- | --- |
| Resistances | Weak to Force, magic, and Almighty | Drop | Bead |
List of Skills

Skill
Cost
Effect
Berserk
Extra
Damages one group of enemies. (Charge-type)
Critical
Extra
Delivers a mighty blow against one enemy. (Dex-type)
Guard
-
Reduces damage taken by user. (Enemy-only)
Last Bible IIIEdit
| Level | HP | MP | ATK | DEF | STR | INT | END | SPD | LUC |
| --- | --- | --- | --- | --- | --- | --- | --- | --- | --- |
| 8 | 98 | 40 | 20 | 13 | 11 | 8 | 10 | 10 | 7 |
| Level | HP | MP | ATK | DEF | STR | INT | END | SPD | LUC |
| --- | --- | --- | --- | --- | --- | --- | --- | --- | --- |
| 40 | 534 | 63 | 117 | 86 | 19 | 12 | 21 | 14 | 14 |

| | | | |
| --- | --- | --- | --- |
| Equipment | Equips All | Card Location | Create using Giant bones. |
| Level | HP | MP | ATK | DEF | STR | INT | END | SPD | LUC |
| --- | --- | --- | --- | --- | --- | --- | --- | --- | --- |
| 45 | 650 | 154 | 135 | 94 | 25 | 14 | 22 | 13 | 14 |

| | | | |
| --- | --- | --- | --- |
| Equipment | Equips All | Card Location | Revive Death Gigant |
Giten Megami Tensei: Tokyo MokushirokuEdit
| Race | Alignment | Level | HP | MP | CP |
| --- | --- | --- | --- | --- | --- |
| Jirae | Neutral-Neutral | 31 | 743 | 134 | 43 |

| Intuition | Will Power | Magic | Intelligence | Divine Protection |
| --- | --- | --- | --- | --- |
| 17 | 25 | 14 | 15 | 30 |

| Strength | Stamina | Agility | Dexterity | Charm |
| --- | --- | --- | --- | --- |
| 41 | 45 | 6 | 8 | 11 |
List of Skills

Agilao
Damudoora
Hell Thrust
Mow Down
Rock Crusher
Rampage