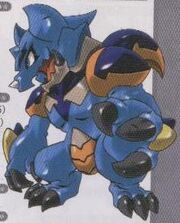 Giga Rox, known as Battle Hei Long (バトルヘイロン, Batoruheiron) in Japan, is a demon in the series.
Appearances
Edit
DemiKids Light & DarkEdit
"A DemiKid's best friend. Now with razor sharp claws to better protect its master."
One of the two forms that Dred Rox evolves into after defeating Crosel. Choosing to do nothing will result in Gale evolving into this form. Can perform the combo Stun Claw with Leogard.
DemiKids: Light/Dark VersionEdit
| Class | Element | Type | Exp | Level | HP | MP |
| --- | --- | --- | --- | --- | --- | --- |
| Elite | Dark | Myth | 378 | 30 | 326 | 131 |

| ATK | DEF | MGC | RES | SPD | LCK |
| --- | --- | --- | --- | --- | --- |
| 31 | 30 | 25 | 25 | 26 | 20 |
List of Skills

Skill
Element
Cost
Effect
Dark Howl
Dark
25 HP
Small dmg. Foes
Crush Claw
Dark
20 HP
Small dmg +DEF Down. 1 Foe
Ice Blade
Ice
25 HP
Medium dmg +Mute. Foes
Powercharge
Light
15 HP
Special Boost. Self
Nightwall
Dark
25 HP
Null Spell dmg. 1 Ally
Death Breath
Dark
30 HP
Large dmg +Faint. Foes
Devil Children Fire/Ice BookEdit
| Class | Element | Type | Exp | Level | HP | MP |
| --- | --- | --- | --- | --- | --- | --- |
| Elite | Dark | Myth | 378 | 30 | 326 | 131 |

| ATK | DEF | MGC | RES | SPD | LCK |
| --- | --- | --- | --- | --- | --- |
| 31 | 30 | 25 | 25 | 26 | 20 |
List of Skills

Dark Howl
Crash Claw
Ice Blade
Chikaratame
Wall of Darkness
Death Breath