Ad blocker interference detected!
Wikia is a free-to-use site that makes money from advertising. We have a modified experience for viewers using ad blockers

Wikia is not accessible if you've made further modifications. Remove the custom ad blocker rule(s) and the page will load as expected.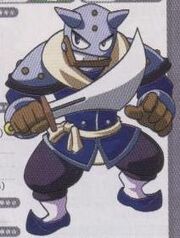 Ginkaku (ギンカク, Ginkaku) is a demon in the series.
Yin Jiao Da Xian (银角大仙), one of the monsters encountered by the West journeying monks in the Novel: A Journey to the West (西游记). The name literally means Greate Deity of Silver Horn.
Appearances
Edit
Demikids: Light & DarkEdit
"

Ogre-demon with a mighty sword that is said to cut to the very soul of demons.

"
Known as Silgra, he can perform the Wind Combo Hurricane with Gogra that deals damage to foes for 25 MP. He has the power Mood-Swing, which will make him fight harder when the mood is right.
DemiKids Light & DarkEdit
| Class | Element | Type | Exp | Level | HP | MP |
| --- | --- | --- | --- | --- | --- | --- |
| General | Wind | Ogre | 365 | 30 | 308 | 152 |

| ATK | DEF | MGC | RES | SPD | LCK |
| --- | --- | --- | --- | --- | --- |
| 25 | 23 | 28 | 25 | 25 | 24 |
List of Skills

Skill
Element
Cost
Effect
Cycloburst
Wind
10 MP
Medium dmg. 1 Foe
Paralyze
Dark
20 HP
Medium dmg +Paralyze. 1 Foe
Tornado
Wind
23 HP
Medium dmg. Foes
Hex Comadeus
Dark
20 MP
Medium dmg +Faint. 2 Foes
Wild Blows
Dark
15 HP
Hit x3. 1 Foe
Hex Bind
Dark
35 MP
Hit +Paralyze. 1 Foe
Devil Children Fire/Ice BookEdit
| Class | Element | Type | Exp | Level | HP | MP |
| --- | --- | --- | --- | --- | --- | --- |
| General | Wind | Ogre | 365 | 30 | 308 | 152 |

| ATK | DEF | MGC | RES | SPD | LCK |
| --- | --- | --- | --- | --- | --- |
| 25 | 23 | 28 | 25 | 25 | 24 |