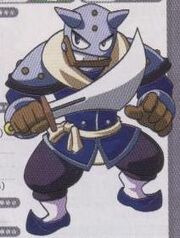 Ginkaku (ギンカク, Ginkaku) is a demon in the series.
Yin Jiao Da Xian (银角大仙), one of the monsters encountered by the West journeying monks in the Novel: A Journey to the West (西游记). The name literally means Greate Deity of Silver Horn.
Appearances
Edit
Demikids: Light & DarkEdit
Known as Silgra, he can perform the Wind Combo Hurricane with Gogra that deals damage to foes for 25 MP. He has the power Mood-Swing, which will make him fight harder when the mood is right.
DemiKids Light & DarkEdit
| Class | Element | Type | Exp | Level | HP | MP |
| --- | --- | --- | --- | --- | --- | --- |
| General | Wind | Ogre | 365 | 30 | 308 | 152 |

| ATK | DEF | MGC | RES | SPD | LCK |
| --- | --- | --- | --- | --- | --- |
| 25 | 23 | 28 | 25 | 25 | 24 |
List of Skills

Skill
Element
Cost
Effect
Cycloburst
Wind
10 MP
Medium dmg. 1 Foe
Paralyze
Dark
20 HP
Medium dmg +Paralyze. 1 Foe
Tornado
Wind
23 HP
Medium dmg. Foes
Hex Comadeus
Dark
20 MP
Medium dmg +Faint. 2 Foes
Wild Blows
Dark
15 HP
Hit x3. 1 Foe
Hex Bind
Dark
35 MP
Hit +Paralyze. 1 Foe
Devil Children Fire/Ice BookEdit
| Class | Element | Type | Exp | Level | HP | MP |
| --- | --- | --- | --- | --- | --- | --- |
| General | Wind | Ogre | 365 | 30 | 308 | 152 |

| ATK | DEF | MGC | RES | SPD | LCK |
| --- | --- | --- | --- | --- | --- |
| 25 | 23 | 28 | 25 | 25 | 24 |