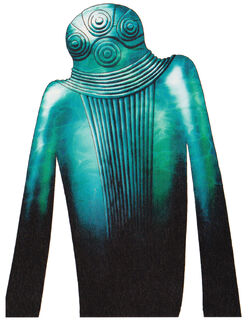 Gogmagog (ゴグマゴグ, Gogumagogu)? is a demon in the series.
In Abrahamic tradition, Gog and Magog were the name of ancestors of an unidentified group of peoples.
In English lore, Gog and Magog are giants who are guardian spirits of the city of London.
Appearances
Edit
Shin Megami Tensei III: NocturneEdit
"

A giant said to have lived in ancient England. It is said he could rip a tree from its roots as easily as an ordinary man could rip a vegetable from the ground. He fought Corineus, the legendary hero of Cornwall.

"
—Shin Megami Tensei III: Nocturne compendium
Gogmagog evolves into Albion by leveling up. He can only evolve after the Demi-fiend has defeated Albion at the White Temple.
Shin Megami Tensei IMAGINEEdit
Gogmagog was implemented during the 2015 Halloween event where players could obtain his plug-in. He is fused in a special triple fusion of Knocker, Titan and Blob.
Shin Megami Tensei IV ApocalypseEdit
"A giant said to have lived in ancient Britain.
He was so huge, he could destroy the mast of a ship with a single swing of his arm. He defended the island against intruders until he was defeated by the Trojan Brutus."
—Shin Megami Tensei IV Apocalypse compendium
Gogmagog can be found in the Firmament areas of the Sky Tower. He can teach Nanashi the Shock, Earthquake and Titanomachia skills through his Demon Whisper. Gogmagog benefits from learning Physical and Electricity skills.
Devil Summoner: Soul HackersEdit
"

A giant to have lived in ancient England. He was so huge, he could destroy the mast of a ship with a single swing of his arm. He defended the island against intruders until he was defeated by the Trojan Brutus.

"
—Devil Summoner: Soul Hackers 3DS compendium
Shin Megami Tensei III: NocturneEdit
Race

Level

HP

MP

| | | |
| --- | --- | --- |
| Strength | 22 | |
| Magic | 14 | |
| Vitality | 21 | |
| Agility | 7 | |
| Luck | 14 | |

Jirae
55
456
207
| Reflects | Absorbs | Void | Resists | Weak |
| --- | --- | --- | --- | --- |
| - | - | Physical, Ice, Death | - | Fire |
| | |
| --- | --- |
| Obtainable | Normal recruit or fusion |
List of Skills

Skill
Cost
Effect
Level
Tornado
25 MP
Heavy force damage to random foes.
Innate
Berserk
13% HP
Small physical damage to random foes.
Innate
Diarama
7 MP
Greatly restores one ally's HP.
Innate
Life Surge
Passive
Equipper's max HP is boosted by 30%.
56
Tarunda
20 MP
Decreases physical and magical power by 1 level, all foes.
57
Evil Gaze
8 MP
Chance of dropping one foe's remaining HP to 1. Death-type.
58
Rakunda
12 MP
Decreases defense by 1 level, all foes.
59
Sukunda
12 MP
Decreases agility by 1 level, all foes.
60
Shin Megami Tensei: Strange JourneyEdit
Race

Alignment

Level

HP

MP

| | | |
| --- | --- | --- |
| Strength | 39 | |
| Magic | 31 | |
| Vitality | 35 | |
| Agility | 32 | |
| Luck | 38 | |

Jirae
Neutral-Neutral
55
460
240
| Attack Type | | | | | | | | | |
| --- | --- | --- | --- | --- | --- | --- | --- | --- | --- |
| Single Foe/1/Physical/None | Strong | - | Weak | Reflect | Drain | Weak | - | Weak | - |
| Poison | Paralyze | Stone | Strain | Sleep | Charm | Mute | Fear | Bomb | Rage |
| --- | --- | --- | --- | --- | --- | --- | --- | --- | --- |
| - | - | - | - | - | - | Weak | - | - | - |
D-Source Skills
Retaliate
Diarahan
Posumudi
Item Drops
Jirae Mud
Life Stone
Bead
Password
xHpKrAJRrTJ6SrbJ
bDJHr0J%SY3KrzG2
Shin Megami Tensei IVEdit
Race

Level

HP

MP

| | | |
| --- | --- | --- |
| Strength | 76 | |
| Dexterity | 67 | |
| Magic | 53 | |
| Agility | 61 | |
| Luck | 50 | |

Jirae
55
615
121
| Phys | Gun | Fire | Ice | Elec | Force | Light | Dark |
| --- | --- | --- | --- | --- | --- | --- | --- |
| Resist | - | Weak | Repel | Drain | Weak | - | Weak |
| | |
| --- | --- |
| Normal Attack | Physical, one hit, one enemy |
List of Skills

Skill
Cost
Effect
Level
Shock
21 MP
1 to 4 hits of weak elec damage to multiple foes.
Innate
Megaton Press
21 MP
Medium physical damage to all foes. High critical but low accuracy.
Innate
Ally Counter
Auto
Chance of countering with weak basic attack
after ally receiving physical or gun damage.
56
Shin Megami Tensei IV ApocalypseEdit
Race

Level

HP

MP

| | | |
| --- | --- | --- |
| Strength | 93 | |
| Dexterity | 58 | |
| Magic | 42 | |
| Agility | 56 | |
| Luck | 71 | |

Jirae
61
788
179
| Phys | Gun | Fire | Ice | Elec | Force | Light | Dark |
| --- | --- | --- | --- | --- | --- | --- | --- |
| Resist | - | Weak | Repel | Null | Weak | - | Weak |
| | |
| --- | --- |
| Ailment Resistance | Null:Bind, Resist:Daze, Weak:Sick/Mute |
| | |
| --- | --- |
| Normal Attack | Phys x1, 1 enemy |
Skill Affinities

Physical

+3

· Electricity

+3

· Ailment

-2

· Dark

-3

· Fire

-5

· Force

-5
List of Skills

Skill
Cost
Effect
Level
Shock
21 MP
1 to 4 hits of weak elec damage to multiple foes.
Innate
Earthquake
25 MP
Medium physical damage and 60% daze to all foes.
Innate
Ally Counter
Auto
Chance of countering with weak basic attack after ally receiving physical or gun damage.
62
Titanomachia
35 MP
Heavy physical damage to all foes. High critical but low accuracy.
63
Shin Megami Tensei: Devil SummonerEdit
| Race | Level | HP | MP | St | In | Ma | Ag | Lu |
| --- | --- | --- | --- | --- | --- | --- | --- | --- |
| Jirae | 67 | 785 | 262 | 23 | 10 | 12 | 10 | 7 |
| CP | NOA | Personality | P.ATK | P.HIT | B.DEF | AVD | M.ATK | M.DEF |
| --- | --- | --- | --- | --- | --- | --- | --- | --- |
| 71 | 2 | Wild | 180 | 116 | 178 | 113 | 29 | 59 |
Devil Summoner: Soul HackersEdit
| Race | Level | HP | MP | St | In | Ma | En | Ag | Lu |
| --- | --- | --- | --- | --- | --- | --- | --- | --- | --- |
| 54 | Jirae | 471 | 126 | 21 | 8 | 10 | 19 | 8 | 5 |

| CP | MAG Summon | Personality | P.ATK | P.HIT | B.DEF | AVD | M.ATK | M.HIT |
| --- | --- | --- | --- | --- | --- | --- | --- | --- |
| 11 | 858 | Wild | 150 | 84 | 162 | 83 | 90 | 26 |
| Reflects | Absorbs | Void | Resists | Weak |
| --- | --- | --- | --- | --- |
| - | - | Fire, Death | - | Ice |
Devil Children White BookEdit
| Class | Element | Type | Level | HP | MP | Exp |
| --- | --- | --- | --- | --- | --- | --- |
| Elite | Earth | Evil | 31 | 327 | 147 | 402 |
| ATK | DEF | MGC | RES | SPD | LCK |
| --- | --- | --- | --- | --- | --- |
| 29 | 25 | 26 | 27 | 26 | 29 |
Artwork in Devil Children White Book
Model from Shin Megami Tensei III: Nocturne
Gogmagog as it appears in Shin Megami Tensei IMAGINE