Ad blocker interference detected!
Wikia is a free-to-use site that makes money from advertising. We have a modified experience for viewers using ad blockers

Wikia is not accessible if you've made further modifications. Remove the custom ad blocker rule(s) and the page will load as expected.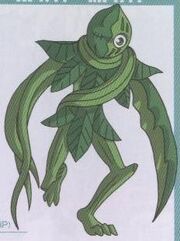 Green M (グリーン エム, Guriin Emu) is a demon in the series.
A Green Man is a sculpture, drawing, or other representation of a face surrounded by or made from leaves. Branches or vines may sprout from the nose, mouth, nostrils or other parts of the face and these shoots may bear flowers or fruit. Commonly used as a decorative architectural ornament, Green Men are frequently found on carvings in churches and other buildings (both secular and ecclesiastical).
"The Green Man" is also a popular name for English public houses and various interpretations of the name appear on inn signs, which sometimes show a full figure rather than just the head.
Appearances
Edit
Devil Children White BookEdit
"

It is part human and part plant, but does not have the mind of a human.

Devidas"
Devil Children: White BookEdit
| Class | Element | Type | Exp | Level | HP | MP |
| --- | --- | --- | --- | --- | --- | --- |
| King | Thunder | Fiend | 173 | 20 | 213 | 98 |
| ATK | DEF | MGC | RES | SPD | LCK |
| --- | --- | --- | --- | --- | --- |
| 17 | 15 | 17 | 15 | 18 | 19 |