Ad blocker interference detected!
Wikia is a free-to-use site that makes money from advertising. We have a modified experience for viewers using ad blockers

Wikia is not accessible if you've made further modifications. Remove the custom ad blocker rule(s) and the page will load as expected.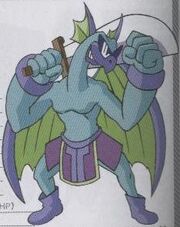 Grigori (グリゴリ, Gurigori) is a demon in the series.
The Watchers or Grigori are a group of fallen angels told of in Biblical apocrypha who mated with human females, giving rise to a race of hybrids known as the Nephilim, who are mentioned in Genesis 6:4. The Watchers appear in Biblical apocrypha, in the first and second books of Enoch and Jubilees. The word "Grigori" derives from the Slavonic Second Book of Enoch.
Appearances
Edit
Devil Children: Red/Black BookEdit
| Class | Element | Type | Exp | Level | HP | MP |
| --- | --- | --- | --- | --- | --- | --- |
| General | Dark | Holy | 61 | 12 | 130 | 49 |
| ATK | DEF | MGC | RES | SPD | LCK |
| --- | --- | --- | --- | --- | --- |
| 12 | 11 | 10 | 10 | 11 | 8 |
Devil Children: White BookEdit
| Class | Element | Type | Exp | Level | HP | MP |
| --- | --- | --- | --- | --- | --- | --- |
| General | Dark | Holy | 61 | 12 | 130 | 49 |
| ATK | DEF | MGC | RES | SPD | LCK |
| --- | --- | --- | --- | --- | --- |
| 12 | 11 | 10 | 10 | 11 | 8 |
Devil Children: Red/Black Book (PS)Edit
| Class | Element | Type | Exp | Level | HP | MP |
| --- | --- | --- | --- | --- | --- | --- |
| General | Dark | Holy | 61 | 12 | 130 | 49 |
| ATK | DEF | MGC | RES | SPD | LCK |
| --- | --- | --- | --- | --- | --- |
| 12 | 11 | 10 | 10 | 11 | 8 |