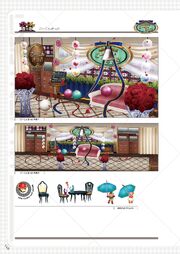 Group Date Cafe (ごーこんきっさ?) is the second labyrinth in Persona Q: Shadow of the Labyrinth.
The area is covered in typically romantic imagery with a heavy emphasis on pink decor, with a darker atmosphere marked with chains further in. As the player progresses, they are given a series of questions that are said to lead them to their fated partner and at the end, their chosen protagonist is paired with a member of the cast, regardless of gender, species, and including Velvet Room inhabitants before being brought to face the boss.
Unlike the other labyrinths, the setting is loosely based on Rei's wishes to find her "white knight" one day after reading a story book about it. The reason why it took the look of a Group Date Cafe was because of her meeting and having fun with them before they got to enter the labyrinth.
Power Spots
Edit
Floor 1

Dried Amaryllis
Dried Rose
Dried Orchid

Floor 2

Chipped Candle
Chipped Choker
Chipped Necklace

Floor 3

Cracked Tiara
Cracked Earring
Cracked Heels

Floor 4

Ripped Veil
Ripped Shawl
Ripped Dress
100% Map Completion Chests
Edit
Floor 1: Lightning Gloves
Floor 2: Frozen Stone
Floor 3: Storm Ring
Floor 4: Blazing Flame
Sub-Personas
Edit
Dropped by normal shadows:
Edit
Stops 1-3
Edit
Sub-personas dropped by F.O.E.s:
Edit
Messenger of Love:
Edit
Angel of Love:
Edit
Beast of Lust:
Edit
Engage King:
Edit
White

boxes indicate Rare Shadows.

Dark Purple

boxes indicate FOEs.

Purple

boxes indicate Bosses.
Shadow
Weak
Resist
Block
Absorb
Floor
Drops
Possessive Cupid
Wind, Dark
-
-
-
Stop 1
Stop 2
Angel Piece
Angel Arrow
Autonomic Basalt
Elec, Light
-
-
-
Stop 1
Rock Piece
Rock Hand
Rock Lump
Lustful Snake
Fire, Light
Elec, Wind
-
-
Stop 1
Stop 2
Stop 4
Snake Piece
Snake Ring
Snake Skin
Spurious Book
Ice, Dark
-
-
-
Stop 1
Stop 2
Stop 3
Scripture Piece
Scripture Latch
Tranquil Idol
Ice, Light
Fire, Elec, Wind
-
-
Stop 1
Stop 2
Stop 3
Stop 4
Idol Piece
Idol Veil
Elegant Mother
Light, Dark
-
-
-
Stop 2
Stop 3
Stop 4
Madam Piece
Madam Hat
Soul Dancer
Ice, Dark
-
-
-
Stop 2
Dancer Piece
Dancer Shoes
Wondrous Magus
Elec, Dark
Fire, Ice, Wind
-
-
Stop 2
Stop 3
Stop 4
Shaman Piece
Shaman Robe
Shaman Ring
Blind Cupid
Wind, Dark
Fire
-
-
Stop 3
Eros Piece
Eros Arrow
Eros Wings
Natural Dancer
Ice, Light
-
-
-
Stop 3
Hoofer Piece
Hoofer Shoes
Idle Basalt
Elec, Light
Cut, Stab
-
-
Stop 2
Stop 4
Boulder Piece
Boulder Hand
Whimsical Papillon
Wind, Light
-
-
-
Stop 3
Stop 4
Butterfly Piece
Butterfly Wing
Amorous Snake
Fire, Dark
Ice, Wind
-
-
Stop 4
Serpent Piece
Serpent Ring
Serpent Scale
Vehement Idol
Ice, Dark
-
-
-
Stop 4
Madonna Piece
Madonna Veil
Madonna Stool
Gorgeous King
Fire
Light, Dark
-
-
Stop 2
Stop 3
Stop 4
Royal Piece
Royal Stache
Royal Crown

Treasure Hand

-
Everything
-
-
All
Treasure Piece
Messenger of Love
Fire, Ice
Elec, Wind
Light, Dark
-
Stop 1
Stop 4
High level Persona
Passion Shard
Angel of Love
-
Fire, Ice
Light, Dark
-
Stop 2
Stop 4
High level Persona
Love Shard
Beast of Lust
-
Fire, Ice, Elec, Wind
Light, Dark
-
Stop 3
Stop 4
High level Persona
Lust Shard
God of Romance
Ice
Fire
Light, Dark
-
Stop 3
High level Persona
Romance Shard
Merciful Clergyman
Elec
-
Light, Dark
-
The Big Day
Torn Bible
Engage King
Wind
-
Light, Dark
-
The Big Day
Royal Gold
Weddings Part 1
Weddings Part 2
Weddings Part 3
Weddings Part 4
Group Date Group seen in Side: P3
P3 Side Wedding manga version of Rei and the P3 Hero
Group Date Group seen in Side: P4
Pr Side Wedding manga version of P3 Hero and the P4 Hero