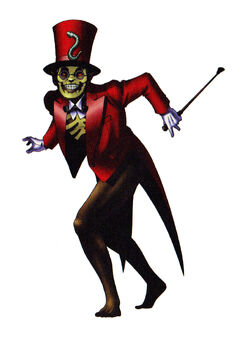 Guedhe (ゲーデ, Gūde) is a recurring demon in the series.
Guédé is a family of Loa in Haitian Voodoo that embody death and fertility. All are known for their drum rhythm and a dance called Banda. During a possession they will drink or rub themselves with a mixture of raw rum or clairin and twenty-one habanero or goat peppers. One of this family, Papa Ghede, is believed to be the first man to ever die and the Loa in charge of taking souls to the afterlife. He is considered a more benevolent counterpart to Baron Samedi, the Lord of the Graveyards, who himself is a Guédé.
Appearances
Edit
Shin Megami Tensei IMAGINEEdit
Guedhe appears as the final boss within the instanced area of Zoushigiya Cemetery. By defeating him, players have a chance to obtain the ability to fuse him. He also appears as an NPC during the Foreign Country in the Woods series of quests. He is a special double-fusion of Baphomet and Loa.
Shin Megami Tensei: Strange JourneyEdit
"

A Voodoo god of death who wears an all-black suit and a tall black hat. In order for the souls of the dead to reach Guinee, the afterworld, they must travel a long road. He waits at the crossroads to lead the souls. He is said to be very smart, knowing everything about all humans.

"
—Strange Journey compendium
Shin Megami Tensei IVEdit
Guedhe can be found in the Infernal Tokyo versions of Kasumigaseki and Camp Ichigaya. He can teach Flynn the Mudoon, Recarm and Megidola skills through his Demon Whisper.
Shin Megami Tensei IV ApocalypseEdit
Guedhe can teach Nanashi the Mudoon, Smile Charge, Amrita and Samarecarm skills through his Demon Whisper. He benefits from learning Darkness, healing and support skills.
Devil Summoner: Soul HackersEdit
"A Voodoo god of death who wears an all-black suit and a tall black hat. In order for the souls of the dead to reach Guinee, the afterworld, they must travel a long road.
He waits at the crossroads to lead the souls. He is said to be very smart, knowing everything about all humans."
—Devil Summoner: Soul Hackers 3DS compendium
Shin Megami Tensei: Strange JourneyEdit
| Attack Type | | | | | | | | | |
| --- | --- | --- | --- | --- | --- | --- | --- | --- | --- |
| Single foe/1/Physical/Sleep | 100% | 100% | 100% | 100% | 100% | 100% | Resist | Null | 100% |
| Poison | Paralyze | Stone | Strain | Sleep | Charm | Mute | Fear | Bomb | Rage |
| --- | --- | --- | --- | --- | --- | --- | --- | --- | --- |
| Null | Null | Null | Null | Null | Null | Null | Null | Null | 100% |
D-Source Skills
Mamudoon
Samarecarm
Tricky Dance
Password
zzr5-DrwZi-TnZQh

tOVTrDZTFOdTTjt9
Shin Megami Tensei IVEdit
Race

Level

HP

MP

| | | |
| --- | --- | --- |
| Strength | 69 | |
| Dexterity | 63 | |
| Magic | 63 | |
| Agility | 83 | |
| Luck | 69 | |

Reaper
63
511
229
| Phys | Gun | Fire | Ice | Elec | Force | Light | Dark |
| --- | --- | --- | --- | --- | --- | --- | --- |
| - | - | - | - | - | - | Resist | Null |
| | |
| --- | --- |
| Normal Attack | Phys x1, 1 enemy |
List of Skills

Skill
Cost
Effect
Level
Mudoon
10 MP
55% instantly kills one foe. Dark-type.
Innate
Recarm
20 MP
Revives one dead ally with little HP restored.
Innate
Megidola
40 MP
Medium almighty damage to all foes.
64
Shin Megami Tensei IV ApocalypseEdit
Race

Level

HP

MP

| | | |
| --- | --- | --- |
| Strength | 43 | |
| Dexterity | 56 | |
| Magic | 96 | |
| Agility | 63 | |
| Luck | 76 | |

Reaper
63
404
373
| Phys | Gun | Fire | Ice | Elec | Force | Light | Dark |
| --- | --- | --- | --- | --- | --- | --- | --- |
| - | - | - | - | - | - | - | Repel |
| | |
| --- | --- |
| Ailment Resistance | Resist: Daze, Weak: Mute |
| | |
| --- | --- |
| Normal Attack | Phys x1, 1 enemy |
List of Skills

Skill
Cost
Effect
Level
Mudoon
12 MP
Heavy dark damage to one foe.

Smirk

+55% instant death
Innate
Smile Charge
50 MP
Bestows the user with smirk. Cannot be used if the user has ailment(s).
Innate
Amrita
20 MP
Removes all ailments from one ally.
Innate
Samarecarm
40 MP
Revives one dead ally with HP fully restored.
64
Dark Pleroma
Auto
Boosts dark damage by 25%.
65
Devil Summoner: Soul HackersEdit
| Race | Level | HP | MP | CP | MAG Summon |
| --- | --- | --- | --- | --- | --- |
| Reaper | 54 | 565 | 251 | 22 | 1722 |

| Strength | Intelligence | Magic | Endurance | Agility | Luck |
| --- | --- | --- | --- | --- | --- |
| 15 | 20 | 24 | 12 | 16 | 5 |
| Personality | Phys Attack | Phys Hit | Mgc Attack | Mgc Hit | Base Defense | Avoid |
| --- | --- | --- | --- | --- | --- | --- |
| Sly | 138 | 84 | 218 | 64 | 148 | 83 |
| Resist | Void | Absorb | Reflect | Weak |
| --- | --- | --- | --- | --- |
| - | Expel, Death, Mind Curse | - | - | - |