Ad blocker interference detected!
Wikia is a free-to-use site that makes money from advertising. We have a modified experience for viewers using ad blockers

Wikia is not accessible if you've made further modifications. Remove the custom ad blocker rule(s) and the page will load as expected.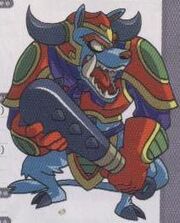 Gyuu Maou (ギュウマオウ, Gyuumaou)? is a demon in the series.
A character from the novel A Journey to the West. In it he is known as Niu Mo Wang (牛魔王), and he is the sworn brother of Sun Wu Kong (孙悟空), the Monkey God.
Appearances
Edit
DemiKids Light/Dark VersionEdit
"

A violent, bull of a demon that blows away his opponents with a single swing of his club.

"
Known as Bulmax, he has the power Magnify, which increases the damage he deals.
DemiKids Light & DarkEdit
| Class | Element | Type | Exp | Level | HP | MP |
| --- | --- | --- | --- | --- | --- | --- |
| King | Fire | Ogre | 505 | 36 | 362 | 165 |

| ATK | DEF | MGC | RES | SPD | LCK |
| --- | --- | --- | --- | --- | --- |
| 34 | 31 | 27 | 29 | 32 | 25 |
List of Skills

Skill
Element
Cost
Effect
Blast Claw
Fire
35 HP
Medium dmg +Bomb. 1 Foe
Speed Stab
Dark
25 HP
No DEF Small dmg+Mute. 1 Foe
Venom
Dark
6 MP
Poison. 1 Foe
Terror Gaze
Dark
10 HP
Absorb MP +DEF Down. Foes
Hex TNT
Dark
20 MP
Hit +Bomb. 1 Foe
Frenzy
Dark
20 HP
Hit x4. Random Foe
Devil Children Fire/Ice BookEdit
| Class | Element | Type | Exp | Level | HP | MP |
| --- | --- | --- | --- | --- | --- | --- |
| King | Fire | Ogre | 505 | 36 | 362 | 165 |

| ATK | DEF | MGC | RES | SPD | LCK |
| --- | --- | --- | --- | --- | --- |
| 34 | 31 | 27 | 29 | 32 | 25 |
List of Skills

Bakunetsu no tsume
Jigokuduki
Poisma
Evil Eyes
Mitedyne
Ooabare