Ad blocker interference detected!
Wikia is a free-to-use site that makes money from advertising. We have a modified experience for viewers using ad blockers

Wikia is not accessible if you've made further modifications. Remove the custom ad blocker rule(s) and the page will load as expected.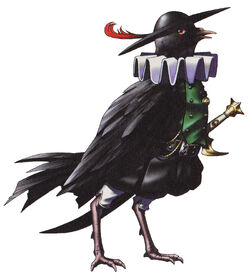 Halphas (ハルパス, Harupasu) is a recurring demon in the series.
The 38th spirit of the Goetia, ruling 26 legions of spirits, he is a great earl and appears in the form of a stock dove that speaks with a hoarse voice. His office is to build towers and furnish them with weapons and ammunition. He also sends men of war to places appointed.
Appearances
Edit
Shin Megami Tensei: Strange JourneyEdit
"

One of the 72 demons of the Goetia. He is called the Count of death and destruction, and appears as a jet-black dove with blood-red eyes. He is a craftsman and builds towers full of weapons.

"
—Shin Megami Tensei: Strange Journey Compendium
Halphas appears in Sector Carina's Sanctums as a recruitable enemy. A lone Halphas can be found in the top floor of Mitra's Tower in Sector Bootes. He issues an EX Mission to be entertained with a hunting expedition. When satisfied, he will hand over the Rare Forma UMA's Ball, an artifact needed to create UMA Race demons.
Shin Megami Tensei IVEdit
If Flynn does not yet accept the Challenge Quest Rebirth of the Great Overlord and goes to the Domain in Tokyo Bay, a Halphas can be met there. He says that his master has yet to be resurrected. Once he revives, he says the humans won't survive for long and tells him to go away.
Shin Megami Tensei IV ApocalypseEdit
Halphas appears in Shinjuku in the west entrance buildings and the government office building areas. Halphas can teach the Tarukaja, Heat Wave, Rakukaja and Fatal Sword skills. Halphas receives a decent boost to support skills learned and a minor boost to Physical skills.
Shin Megami Tensei: Strange JourneyEdit
| Attack Type | | | | | | | | | |
| --- | --- | --- | --- | --- | --- | --- | --- | --- | --- |
| Single Foe/1/Gun/None | - | Weak | - | - | - | - | Strong | Strong | - |
| Poison | Paralyze | Stone | Strain | Sleep | Charm | Mute | Fear | Bomb | Rage |
| --- | --- | --- | --- | --- | --- | --- | --- | --- | --- |
| 100% | 100% | 100% | 100% | 100% | 100% | 100% | 100% | 100% | 100% |
D-Source Skills
Arrow Rain
Gun Boost
-
Item Drops
Fallen Feather
Life Stone
Revival Bead
Password
6ySvLQUmit7tY#Sf

jxTUaRUtrxU4iBUB
Shin Megami Tensei IVEdit
| Race | Level | HP | MP | ST | DX | MA | AG | LU |
| --- | --- | --- | --- | --- | --- | --- | --- | --- |
| Fallen | 19 | 275 | 54 | 25 | 23 | 23 | 30 | 25 |
| Phys | Gun | Fire | Ice | Elec | Force | Light | Dark |
| --- | --- | --- | --- | --- | --- | --- | --- |
| - | Weak | - | - | - | Weak | - | - |
Shin Megami Tensei IV ApocalypseEdit
Race

Level

HP

MP

| | | |
| --- | --- | --- |
| Strength | 33 | |
| Dexterity | 28 | |
| Magic | 26 | |
| Agility | 37 | |
| Luck | 30 | |

Fallen
24
256
118
| Phys | Gun | Fire | Ice | Elec | Force | Light | Dark |
| --- | --- | --- | --- | --- | --- | --- | --- |
| - | Weak | - | - | - | Weak | Weak | Resist |
| | |
| --- | --- |
| Normal Attack | Phys x1, 1 enemy |
List of Skills

Skill
Cost
Effect
Level
Tarukaja
20 MP
Buffs party's physical attack power by 1 level.
Innate
Heat Wave
13 MP
Weak physical damage to all foes.
Innate
Rakukaja
20 MP
Buffs party's defense by 1 level.
25
Fatal Sword
8 MP
Medium physical damage to one foe.
26
Devil Summoner: Soul HackersEdit
| Race | Level | HP | MP | CP | MAG Summon |
| --- | --- | --- | --- | --- | --- |
| Fallen | 40 | 332 | 116 | 8 | 635 |

| Strength | Intelligence | Magic | Endurance | Agility | Luck |
| --- | --- | --- | --- | --- | --- |
| 10 | 9 | 12 | 11 | 9 | 6 |
| Personality | Phys Attack | Phys Hit | Mgc Attack | Mgc Hit | Base Defense | Avoid |
| --- | --- | --- | --- | --- | --- | --- |
| Calm | 100 | 63 | 105 | 30 | 118 | 63 |
| Resist | Void | Absorb | Reflect | Weak |
| --- | --- | --- | --- | --- |
| - | - | - | Force | Gun |
Giten Megami Tensei: Tokyo MokushirokuEdit
| CP | Intuition | Will Power | Magic | Intelligence | Divine Protection |
| --- | --- | --- | --- | --- | --- |
| 27 | 11 | 12 | 24 | 21 | 9 |

| Strength | Stamina | Agility | Dexterity | Charm |
| --- | --- | --- | --- | --- |
| 22 | 15 | 12 | 12 | 12 |
List of Skills

Spinning Cut
Damudo
Counter Attack
Corrupting Words
Sneer
Talon