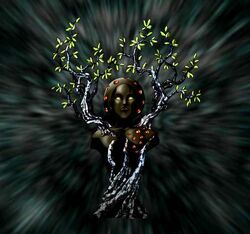 Haoma (ハオマ*)? is a demon in the series.
Haoma is the sacred plant or tree in the Zoroastrian faith, as well as a Yazata ("Beings worthy of Worship"). The name also refers to the divinity of the sacred plant. The concept of Haoma has its origins in the Indo-Iranian Vedic religion and is a cognate of the Vedic concept of Soma, which also exists in Hinduism. Simurgh lives within Haoma's branches and when she leaves the tree she spread Haoma's seeds, which are then carried by the winds of Vayu-Vata and rain of Tishtoriya. Haoma's seeds then take root to become every type of plant that has ever lived, and curing all the illnesses of mankind.
Appearances
Edit
Shin Megami Tensei IV ApocalypseEdit
"A Persian god of Zoroastrian origin who has a plant of the same name. He is the giver of life.
The plant was originally a sacred plant used to make stimulants. Unfortunately, it is no longer known which herb that was. It was used commonly in religious rituals."
—Shin Megami Tensei IV Apocalypse compendium
Haoma can teach Nanashi the Amrita, Fog Breath, Blast Arrow and Tetraja skills through his Demon Whisper. He benefits from learning Gun, healing and support skills.
Devil Summoner: Soul HackersEdit
"A Persian god of Zoroastrian origin who has a plant of the same name. He is the giver of life.
The plant was originally a sacred plant used to make stimulants. Unfortunately, the knowledge of which herb in particular this plant was has been lost to the ages. In previous era, it was used commonly in religious rituals."
—Soul Hackers 3DS Compendium
Shin Megami Tensei: Strange JourneyEdit
| Attack Type | | | | | | | | | |
| --- | --- | --- | --- | --- | --- | --- | --- | --- | --- |
| Single Foe/1/Physical/None | - | Strong | Weak | - | - | - | Null | Null | - |
| Poison | Paralyze | Stone | Strain | Sleep | Charm | Mute | Fear | Bomb | Rage |
| --- | --- | --- | --- | --- | --- | --- | --- | --- | --- |
| 100% | 100% | 100% | 100% | 100% | 100% | 100% | 100% | 100% | 100% |
D-Source Skills
Recarm
Diarahan
Void Gun
Password
746L$PML24ELKWof

j-KjbPMLPjE2bPK9
Shin Megami Tensei IVEdit
| Race | Level | HP | MP | ST | DX | MA | AG | LU |
| --- | --- | --- | --- | --- | --- | --- | --- | --- |
| Tree | 55 | 305 | 296 | 53 | 59 | 76 | 50 | 70 |
| Phys | Gun | Fire | Ice | Elec | Force | Light | Dark |
| --- | --- | --- | --- | --- | --- | --- | --- |
| - | Resist | Weak | - | - | - | Null | - |
Shin Megami Tensei IV ApocalypseEdit
Race

Level

HP

MP

| | | |
| --- | --- | --- |
| Strength | 42 | |
| Dexterity | 81 | |
| Magic | 68 | |
| Agility | 60 | |
| Luck | 55 | |

Tree
54
486
251
| Phys | Gun | Fire | Ice | Elec | Force | Light | Dark |
| --- | --- | --- | --- | --- | --- | --- | --- |
| - | Null | Weak | - | - | - | Resist | - |
| | |
| --- | --- |
| Normal Attack | Phys x1, 1 enemy |
List of Skills

Skill
Cost
Effect
Level
Amrita
20 MP
Removes all ailments from one ally.
Innate
Fog Breath
65 MP
Debuffs all foes' attack and agility by 1 level.
Innate
Blast Arrow
19 MP
Medium gun damage to all foes.
55
Tetraja
15 MP
Bestows shields which nullify light or dark attacks for one attack to all allies.
56
Shin Megami Tensei: Devil SummonerEdit
| Race | Level | HP | MP | CP | NOA |
| --- | --- | --- | --- | --- | --- |
| Tree | 51 | 345 | 277 | 63 | 1-2 |
| Strength | Intelligence | Magic | Endurance | Agility | Luck |
| --- | --- | --- | --- | --- | --- |
| 15 | 15 | 18 | 10 | 8 | 9 |
| Personality | Phys Attack | Phys Hit | Base Defense | Avoid | Mgc Attack | Mgc Defense |
| --- | --- | --- | --- | --- | --- | --- |
| Insightful | 132 | 89 | 122 | 89 | 43 | 49 |
Devil Summoner: Soul HackersEdit
| Race | Level | HP | MP | CP | MAG Summon |
| --- | --- | --- | --- | --- | --- |
| Tree | 55 | 423 | 195 | 6 | 434 |

| Strength | Intelligence | Magic | Endurance | Agility | Luck |
| --- | --- | --- | --- | --- | --- |
| 15 | 16 | 19 | 10 | 8 | 9 |
| Personality | Phys Attack | Phys Hit | Mgc Attack | Mgc Hit | Base Defense | Avoid |
| --- | --- | --- | --- | --- | --- | --- |
| Kind | 140 | 87 | 173 | 50 | 146 | 86 |
| Resist | Void | Absorb | Reflect | Weak |
| --- | --- | --- | --- | --- |
| - | Expel, Death | - | - | Fire |