Ad blocker interference detected!
Wikia is a free-to-use site that makes money from advertising. We have a modified experience for viewers using ad blockers

Wikia is not accessible if you've made further modifications. Remove the custom ad blocker rule(s) and the page will load as expected.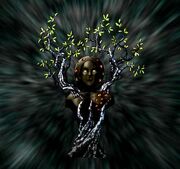 Haoma (ハオマ) is a demon in the series.
Haoma is the sacred plant or tree in the Zoroastrian faith, as well as a Yazata ("Beings worthy of Worship"). The name also refers to the divinity of the sacred plant. The concept of Haoma has its origins in the Indo-Iranian Vedic religion and is a cognate of the Vedic concept of Soma, which also exists in Hinduism. Simurgh lives within Haoma's branches and when she leaves the tree she spread Haoma's seeds, which are then carried by the winds of Vayu-Vata and rain of Tishtoriya. Haoma's seeds then take root to become every type of plant that has ever lived, and curing all the illnesses of mankind.
Appearances
Edit
Devil Summoner: Soul HackersEdit
"A Persian god of Zoroastrian origin who has a plant of the same name. He is the giver of life.
The plant was originally a sacred plant used to make stimulants. Unfortunately, the knowledge of which herb in particular this plant was has been lost to the ages. In previous era, it was used commonly in religious rituals."
—Soul Hackers 3DS Compendium
Shin Megami Tensei: Strange JourneyEdit
| Attack Type | | | | | | | | | |
| --- | --- | --- | --- | --- | --- | --- | --- | --- | --- |
| Single Foe/1/Physical/None | - | Strong | Weak | - | - | - | Null | Null | - |
| Poison | Paralyze | Stone | Strain | Sleep | Charm | Mute | Fear | Bomb | Rage |
| --- | --- | --- | --- | --- | --- | --- | --- | --- | --- |
| 100% | 100% | 100% | 100% | 100% | 100% | 100% | 100% | 100% | 100% |
D-Source Skills
Recarm
Diarahan
Void Gun
Password
746L$PML24ELKWof

j-KjbPMLPjE2bPK9
Shin Megami Tensei IVEdit
| Race | Level | HP | MP | ST | DX | MA | AG | LU |
| --- | --- | --- | --- | --- | --- | --- | --- | --- |
| Tree | 55 | 305 | 296 | 53 | 59 | 76 | 50 | 70 |
| Phys | Gun | Fire | Ice | Elec | Force | Light | Dark |
| --- | --- | --- | --- | --- | --- | --- | --- |
| - | Resist | Weak | - | - | - | Null | - |
Shin Megami Tensei: Devil SummonerEdit
| Race | Level | HP | MP | CP | NOA |
| --- | --- | --- | --- | --- | --- |
| Tree | 51 | 345 | 277 | 63 | 1-2 |
| Strength | Intelligence | Magic | Endurance | Agility | Luck |
| --- | --- | --- | --- | --- | --- |
| 15 | 15 | 18 | 10 | 8 | 9 |
| Personality | Phys Attack | Phys Hit | Base Defense | Avoid | Mgc Attack | Mgc Defense |
| --- | --- | --- | --- | --- | --- | --- |
| Insightful | 132 | 89 | 122 | 89 | 43 | 49 |
Devil Summoner: Soul HackersEdit
| Race | Level | HP | MP | CP | MAG Summon |
| --- | --- | --- | --- | --- | --- |
| Tree | 55 | 423 | 195 | 6 | 434 |

| Strength | Intelligence | Magic | Endurance | Agility | Luck |
| --- | --- | --- | --- | --- | --- |
| 15 | 16 | 19 | 10 | 8 | 9 |
| Personality | Phys Attack | Phys Hit | Mgc Attack | Mgc Hit | Base Defense | Avoid |
| --- | --- | --- | --- | --- | --- | --- |
| Kind | 140 | 87 | 173 | 50 | 146 | 86 |
| Resist | Void | Absorb | Reflect | Weak |
| --- | --- | --- | --- | --- |
| - | Expel, Death | - | - | Fire |