Ad blocker interference detected!
Wikia is a free-to-use site that makes money from advertising. We have a modified experience for viewers using ad blockers

Wikia is not accessible if you've made further modifications. Remove the custom ad blocker rule(s) and the page will load as expected.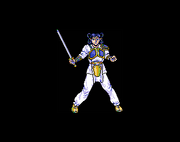 Hatsuse Ou no Mikoto (ハツセオノミコト?) is a demon in the series.
Its is possible that this demon is based of Emperor Buretsu, the 25th emperor of Japan, since his given name was Ohatsuse no Wakasazaki no Mikoto.
Appearances
Edit
Giten Megami Tensei: Tokyo MokushirokuEdit
| CP | Intuition | Will Power | Magic | Intelligence | Divine Protection |
| --- | --- | --- | --- | --- | --- |
| 41 | 24 | 24 | 29 | 19 | 22 |

| Strength | Stamina | Agility | Dexterity | Charm |
| --- | --- | --- | --- | --- |
| 34 | 35 | 32 | 16 | 34 |
List of Skills

Shoutei
Retsuhakukiruki
Swallow's Sword
Okinagahou
Mahorogi
Mahazanma