Ad blocker interference detected!
Wikia is a free-to-use site that makes money from advertising. We have a modified experience for viewers using ad blockers

Wikia is not accessible if you've made further modifications. Remove the custom ad blocker rule(s) and the page will load as expected.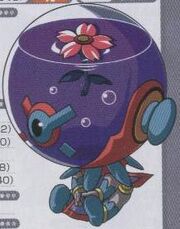 Haurvatat (ハルワタート, Haruwataato) is a demon in the series.
Haurvatat ("Wholeness"), is one of the Amesha Spentas from Zoroastrian Mythology. It is the personification of wholeness or perfection and is associated with water, prosperity, and wealth. In scripture Haurvatat is a female deity but in tradition is considered male. Haurvatat is closely allied with Ameretat who together reward the righteous in the afterlife. Both of them work together to guard plant life and water. Haurvatat eternal opponent is the demon of thirst, Tarshna.
Appearances
Edit
DemiKids: Light & DarkEdit
Known as Haurvata. He can be found in Peril Forest and Underworld.
DemiKids: Light & DarkEdit
| Class | Element | Type | Exp | Level | HP | MP |
| --- | --- | --- | --- | --- | --- | --- |
| Elite | Light | Holy | 364 | 30 | 310 | 152 |

| ATK | DEF | MGC | RES | SPD | LCK |
| --- | --- | --- | --- | --- | --- |
| 25 | 22 | 28 | 25 | 22 | 25 |
List of Skills

Skill
Element
Cost
Effect
Glowdeus
Light
20 MP
Small dmg. 2 Foes
Reset
Light
22 HP
Stat Reset. All
Divine Blow
Light
30 HP
Large dmg. Foes
Wildstorm
Thunder
10 HP
Small dmg. All
Quick Spear
Thunder
28 HP
Small dmg. 1 Foe
Golden Mute
Light
40 HP
Large dmg +Mute. Foes
Devil Children Fire/Ice BookEdit
| Class | Element | Type | Exp | Level | HP | MP |
| --- | --- | --- | --- | --- | --- | --- |
| Elite | Light | Holy | 364 | 30 | 310 | 152 |

| ATK | DEF | MGC | RES | SPD | LCK |
| --- | --- | --- | --- | --- | --- |
| 25 | 22 | 28 | 25 | 22 | 25 |
List of Skills

Hamaon
Initilase
Ten Chuusatsu
Tenbatsu
Quick Spear
Sabaki no Hikari