Ad blocker interference detected!
Wikia is a free-to-use site that makes money from advertising. We have a modified experience for viewers using ad blockers

Wikia is not accessible if you've made further modifications. Remove the custom ad blocker rule(s) and the page will load as expected.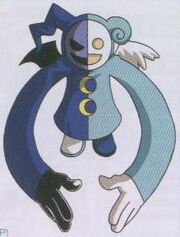 Heart (ハート, Haato) is a demon in the series.
The Heart is a symbol used to represent the soul, emotions, morals, and in the past the intellectual center of a human being. Heart as a symbol has had much mythical significance, whether it's a metaphor or an organ that has spiritual and divine attributes. In the bible the thoughts of evil men are placed in their hearts. The Lord is the one who judges the human heart. The Sacred Heart of Jesus and the Immaculate Heart of Mary are sacred images in Roman Catholicism.
Appearances
Edit
Devil Children White BookEdit
| Class | Element | Type | Exp | Level | HP | MP |
| --- | --- | --- | --- | --- | --- | --- |
| Common | Wind | Holy | 695 | 41 | 438 | 192 |
| ATK | DEF | MGC | RES | SPD | LCK |
| --- | --- | --- | --- | --- | --- |
| 34 | 38 | 41 | 38 | 34 | 36 |