Ad blocker interference detected!
Wikia is a free-to-use site that makes money from advertising. We have a modified experience for viewers using ad blockers

Wikia is not accessible if you've made further modifications. Remove the custom ad blocker rule(s) and the page will load as expected.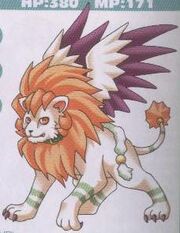 Helphinx, known as Hell Sphinx (ヘルスフィンクス, Herusufinkusu) in Japan, is a demon in the series.
Appearances
Edit
DemiKids Light & DarkEdit
Helphinx is the third award given to the Protagonist by Nagahisa Kai after beating him in BattleNet several times.
Devil Children: Black/Red BookEdit
| Class | Element | Type | Exp | Level | HP | MP |
| --- | --- | --- | --- | --- | --- | --- |
| General | Light | Boss | 518 | 35 | 380 | 171 |
| ATK | DEF | MGC | RES | SPD | LCK |
| --- | --- | --- | --- | --- | --- |
| 35 | 33 | 35 | 30 | 23 | 28 |
Devil Children Black Book/Red Book (PS)Edit
| Class | Element | Type | Exp | Level | HP | MP |
| --- | --- | --- | --- | --- | --- | --- |
| General | Light | Boss | 518 | 35 | 380 | 171 |
| ATK | DEF | MGC | RES | SPD | LCK |
| --- | --- | --- | --- | --- | --- |
| 35 | 33 | 35 | 30 | 23 | 28 |
Devil Children: White BookEdit
| Class | Element | Type | Exp | Level | HP | MP |
| --- | --- | --- | --- | --- | --- | --- |
| General | Light | Boss | 518 | 35 | 380 | 171 |
| ATK | DEF | MGC | RES | SPD | LCK |
| --- | --- | --- | --- | --- | --- |
| 35 | 33 | 35 | 30 | 23 | 28 |
DemiKids Light & DarkEdit
| Class | Element | Type | Exp | Level | HP | MP |
| --- | --- | --- | --- | --- | --- | --- |
| General | Light | Beast | 518 | 35 | 380 | 171 |

| ATK | DEF | MGC | RES | SPD | LCK |
| --- | --- | --- | --- | --- | --- |
| 35 | 33 | 35 | 30 | 23 | 28 |
List of Skills

Skill
Element
Cost
Effect
Shockburst
Thunder
10 MP
Medium dmg. 1 Foe
Holy Flare
Light
15 HP
Small dmg. 1 Foe
Fire Breath
Fire
23 HP
Small dmg. Foes
Revive
Light
18 MP
Revive. 1 Ally
Pyrodeus
Fire
8 MP
Small dmg. 2 Foes
Healmax
Light
20 MP
Full HP recovery. 1 Ally
Devil Children Fire/Ice BookEdit
| Class | Element | Type | Exp | Level | HP | MP |
| --- | --- | --- | --- | --- | --- | --- |
| General | Light | Beast | 518 | 35 | 380 | 171 |

| ATK | DEF | MGC | RES | SPD | LCK |
| --- | --- | --- | --- | --- | --- |
| 35 | 33 | 35 | 30 | 23 | 28 |