Ad blocker interference detected!
Wikia is a free-to-use site that makes money from advertising. We have a modified experience for viewers using ad blockers

Wikia is not accessible if you've made further modifications. Remove the custom ad blocker rule(s) and the page will load as expected.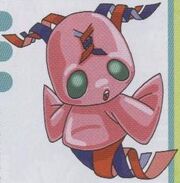 Homunculus (ホムンクルス, Homunkurusu) is a demon in the series.
Latin for "little man", it is the concept of a miniature fully formed human being in alchemy. Creating one was the goal of Islamic Alchemists and creating one has also been attempted in Occultism.
Appearances
Edit
Devil Children White BookEdit
Homunculus can be obtained through a fusion accident.
Devil Children White BookEdit
| Class | Element | Type | Exp | Level | HP | MP |
| --- | --- | --- | --- | --- | --- | --- |
| Common | Light | Alternate | 88 | 14 | 154 | 71 |
| ATK | DEF | MGC | RES | SPD | LCK |
| --- | --- | --- | --- | --- | --- |
| 12 | 10 | 12 | 12 | 16 | 10 |