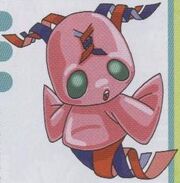 Homunculus (ホムンクルス, Homunkurusu) is a demon in the series.
Latin for "little man", it is the concept of a miniature fully formed human being in alchemy. Creating one was the goal of Islamic Alchemists and creating one has also been attempted in Occultism.
Appearances
Edit
Devil Children White BookEdit
Homunculus can be obtained through a fusion accident.
Devil Children White BookEdit
| Class | Element | Type | Exp | Level | HP | MP |
| --- | --- | --- | --- | --- | --- | --- |
| Common | Light | Alternate | 88 | 14 | 154 | 71 |
| ATK | DEF | MGC | RES | SPD | LCK |
| --- | --- | --- | --- | --- | --- |
| 12 | 10 | 12 | 12 | 16 | 10 |