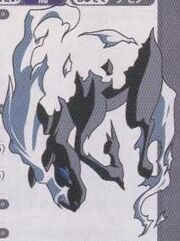 Hrimfaxi (フリンファクシ, Furinfakushi) is a demon in the series.
In Norse mythology, Hrimfaxi was the horse of the night. The name Hrimfaxi means "frost mane" in the Nordic language.
Appearances
Edit
DemiKids: Dark VersionEdit
"A white-manned horse that gallops across the skies, bringing night in its wake."
Known as Windmare, he is a common enemy around the Tower Area and Fanda Plains.
DemiKids: Light & DarkEdit
| Class | Element | Type | Exp | Level | HP | MP |
| --- | --- | --- | --- | --- | --- | --- |
| Elite | Dark | Beast | 121 | 17 | 182 | 70 |

| ATK | DEF | MGC | RES | SPD | LCK |
| --- | --- | --- | --- | --- | --- |
| 17 | 15 | 14 | 13 | 14 | 14 |
List of Skills

Skill
Element
Cost
Effect
Hex Coma
Dark
10 MP
Small dmg +Faint. 1 Foe
Chomp
Dark
10 HP
No DEF Medium dmg. 1 Foe
Guillotine
Dark
15 HP
Small dmg +Faint. 1 Foe
Reflect
Dark
25 HP
Reflect Power Damage
Venom Blade
Dark
25 HP
Medium dmg +Poison. 1 Foe
Cycloburst
Wind
10 MP
Medium dmg. 1 Foe
Devil Children Fire/Ice BookEdit
| Class | Element | Type | Exp | Level | HP | MP |
| --- | --- | --- | --- | --- | --- | --- |
| Elite | Dark | Beast | 121 | 17 | 182 | 70 |

| ATK | DEF | MGC | RES | SPD | LCK |
| --- | --- | --- | --- | --- | --- |
| 17 | 15 | 14 | 13 | 14 | 14 |
List of Skills

Mudo
Marukajiri
Guillotine Blade
Tetrakarn
Poison Blade
Zanma