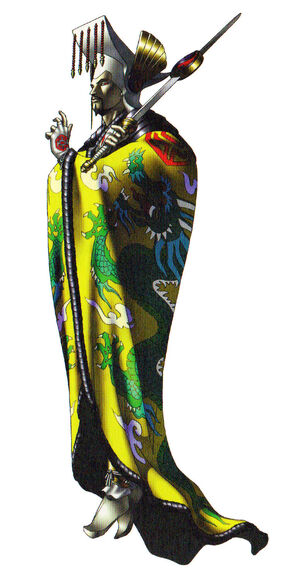 Huang Di, also known as Koutei (コウテイ), is a demon in the series.
Huang Di, the Yellow Emperor, is a legendary ruler and the ancestor of Han people in China. According to legend, he fought against Chi You, the God of War, at the battle of Zhoulu and won securing the Central Plains of China of his people. He also fought against the giant Xing Tian. Legend has it that he also encountered a Bai Ze, who described to him all the 11,520 types of monsters, shapeshifters, demons, and spirits in the world, which was later recorded in the book "Bai Ze Tu" (a sort of Demonic Compendium if you will).
Appearances
Edit
Devil Summoner: Soul HackersEdit
"The legendary Yellow Emperor of China who is thought to be the founder of Chinese civilization.
When his mother Dubhe became pregnant with him, she began to glow brightly, and the pregnancy lasted 24 months. He is famous for inventing several things, lending his talents to creating houses, clothes, wagons, boats, music, and medicine."
—Soul Hackers 3DS Compendium
Huang Di can be obtained if Zeed is level 80 or higher and fused with Xi Wangmu.
Shin Megami Tensei IVEdit
Race

Level

HP

MP

| | | |
| --- | --- | --- |
| Strength | 92 | |
| Dexterity | 92 | |
| Magic | 92 | |
| Agility | 92 | |
| Luck | 92 | |

Famed
86
672
301
| Phys | Gun | Fire | Ice | Elec | Force | Light | Dark |
| --- | --- | --- | --- | --- | --- | --- | --- |
| - | - | Resist | Resist | Resist | Resist | Null | Null |
| | |
| --- | --- |
| Normal Attack | Phys x1 hit, All enemies |
List of Skills

Skill
Cost
Effect
Level
Judgement
45 MP
Medium almighty damage to all foes. Neutral target takes 50% more damage.
Innate
Mediarahan
40 MP
Fully restores party's HP.
Innate
Amrita
20 MP
Removes all ailments from one ally.
87
Victory Cry
Auto
Recovers HP and MP fully after victory.
90
Shin Megami Tensei IV: ApocalypseEdit
Race

Level

HP

MP

| | | |
| --- | --- | --- |
| Strength | 84 | |
| Dexterity | 84 | |
| Magic | 107 | |
| Agility | 94 | |
| Luck | 99 | |

Famed
86
695
322
| Phys | Gun | Fire | Ice | Elec | Force | Light | Dark |
| --- | --- | --- | --- | --- | --- | --- | --- |
| - | - | Resist | Resist | Resist | Resist | - | - |
| | |
| --- | --- |
| Normal Attack | Phys x1 hit, 1 enemy |
List of Skills

Skill
Cost
Effect
Level
Hades Blast
42 MP
Heavy physical damage to all foes.
Innate
Salvation
100 MP
Fully restores party's HP.

Smirk

+cures all ailments
Innate
Riot Gun
30 MP
Severe gun damage to one foe.

Smirk

+Pierce Gun
Innate
Great Logos
100 MP
Severe almighty damage to all foes.
87
Victory Cry
Auto
Recovers HP and MP fully after victory.
88
Repel Light
Auto
Reflects light damage.
89
Devil Summoner: Soul HackersEdit
| Race | Level | HP | MP | St | In | Ma | En | Ag | Lu |
| --- | --- | --- | --- | --- | --- | --- | --- | --- | --- |
| Hero | 83 | 831 | 421 | 31 | 21 | 22 | 20 | 17 | 13 |

| CP | MAG Summon | Personality | P.ATK | P.HIT | B.DEF | AVD | M.ATK | M.HIT |
| --- | --- | --- | --- | --- | --- | --- | --- | --- |
| 9 | 0 | Calm | 228 | 131 | 222 | 140 | 203 | 64 |
| Reflects | Absorbs | Void | Resists | Weak |
| --- | --- | --- | --- | --- |
| - | - | Expel, Death, Mind, Nerve | - | - |