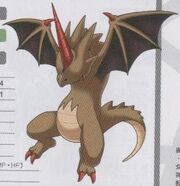 Humbaba, also known as Phunbaba (フンババ, Funbaba)? and Hanbaba (ハンババ*)?, is a demon in the series.
Also known as Huwawa and Humbaba the Terrible he was raised by the Sun God Utu. He was a giant tasked with protecting the home of the Gods known as the Cedar Forest by Enlil. Eventually he was tricked by Gilgamesh who offered his sisters to him. Which results in his capture and eventually attempt to escape that ends in Enkidu slaying him. Enlil would then redistribute the seven splendors/auras of Humbaba to seven others such as the Lions and the rivers.
Appearances
Edit
DemiKids Light/Dark VersionEdit
"

One-eyed demon who awoke from a long sleep. It has yet to recover all its powers.

"
Known as Humbazom, it can be created through Relic fusion using the Wafer+Demon+Heavy, Fear+Demon+Talon, or Air+Demon+Tusk combos.
"

One-eyed demon who watches over the woods and will attack any who seek to harm it.

"
—DemiKids Demonary
Known as Humba, he has the power Final Wall. Humba can be revived from Humbazom once his soul is obtained.
Kyūyaku Megami TenseiEdit
Megami Tensei IIEdit
| Race | Level | HP | MP | VIT | INT | STR | SPD | LUC | DEF |
| --- | --- | --- | --- | --- | --- | --- | --- | --- | --- |
| Wilder | 32 | 211 | - | 13 | 9 | 15 | 12 | 7 | 8 |
Last BibleEdit
| Level | HP | MP | NOA | DEF | STR | INT | END | SPD | LUC |
| --- | --- | --- | --- | --- | --- | --- | --- | --- | --- |
| 14 | 78 | 0 | 1 | | 11 | 7 | 11 | 9 | 9 |
Last Bible IIIEdit
| Level | HP | MP | ATK | DEF | STR | INT | END | SPD | LUC |
| --- | --- | --- | --- | --- | --- | --- | --- | --- | --- |
| 55 | 1500 | 215 | 120 | 83 | 22 | 19 | 29 | 19 | 20 |

| | | | |
| --- | --- | --- | --- |
| Equipment | Can't Equip | Card Location | Ninety Hyakumagumi |
Majin TenseiEdit
| Race | Level | HP | MP | Mv Range | Mv Type | Atk Type | CP |
| --- | --- | --- | --- | --- | --- | --- | --- |
| Wilder | 24 | 238 | 0 | 8 | Water | CLOSE | 0 |

| Strength | Magic | Technique | Defense | Agility | Luck |
| --- | --- | --- | --- | --- | --- |
| 12 | 8 | 10 | 6 | 10 | 7 |
Giten Megami Tensei: Tokyo MokushirokuEdit
| Race | Alignment | Level | HP | MP | CP |
| --- | --- | --- | --- | --- | --- |
| Wilder | Dark-Neutral | 45 | 1239 | 298 | 61 |

| Intuition | Will Power | Magic | Intelligence | Divine Protection |
| --- | --- | --- | --- | --- |
| 35 | 17 | 28 | 11 | 23 |

| Strength | Stamina | Agility | Dexterity | Charm |
| --- | --- | --- | --- | --- |
| 64 | 53 | 29 | 11 | 16 |
List of Skills

Eye Force
Zanmaon
Paral Eyes
Petra Eyes
Mazanma
Mediarama
Megami Ibunroku PersonaEdit
MAtk
MDef

| | | |
| --- | --- | --- |
| Strength | 43 | |
| Vitality | 21 | |
| Dexterity | 24 | |
| Agility | 9 | |
| Luck | 17 | |

75
36
1h
2h
Sp
Ax
Wp
Th
Ar
Fs
HG
MG
SG
Ri
Te
Ru
-
-
-
-
-
-
-
-
-
-
-
1.5×
-
-
Fi
Ic
Wi
Er
El
Nc
Bl
Gr
Ex
Mi
De
Cu
Nr
???
2×
Dr
1.75×
1.75×

2

/

4

2

/

4

2

/

4

2

/

4
-
-
-
-

3

/

4

1

/

4
List of Skills

Skill
Effect
Ice Breath
Medium Ice damage+Freeze (area)
Binal Strike
Special Phys damage; user dies (area)
Devil Children Black Book/Red BookEdit
| Class | Element | Type | Level | HP | MP | Exp |
| --- | --- | --- | --- | --- | --- | --- |
| Common | Wind | Ogre | 8 | 84 | 39 | 24 |
| ATK | DEF | MGC | RES | SPD | LCK |
| --- | --- | --- | --- | --- | --- |
| 11 | 8 | 8 | 9 | 7 | 8 |
Devil Children Black Book/Red Book (PS)Edit
| Class | Element | Type | Level | HP | MP | Exp |
| --- | --- | --- | --- | --- | --- | --- |
| Common | Wind | Ogre | 8 | 84 | 39 | 24 |
| ATK | DEF | MGC | RES | SPD | LCK |
| --- | --- | --- | --- | --- | --- |
| 11 | 8 | 8 | 9 | 7 | 8 |
Devil Children White BookEdit
| Class | Element | Type | Level | HP | MP | Exp |
| --- | --- | --- | --- | --- | --- | --- |
| Common | Wind | Ogre | 8 | 84 | 39 | 24 |
| ATK | DEF | MGC | RES | SPD | LCK |
| --- | --- | --- | --- | --- | --- |
| 11 | 8 | 8 | 9 | 7 | 8 |
DemiKids Light & DarkEdit
| Class | Element | Type | Level | HP | MP | Exp |
| --- | --- | --- | --- | --- | --- | --- |
| Common | Earth | Zombie | 20 | 222 | 88 | 175 |

| ATK | DEF | MGC | RES | SPD | LCK |
| --- | --- | --- | --- | --- | --- |
| 21 | 19 | 17 | 17 | 18 | 13 |
List of Skills

Skill
Element
Cost
Effect
Petradeus
Earth
8 MP
Small dmg. 2 Foes
Venom Claw
Dark
10 HP
Small dmg +Poison. 1 Foe
Bite
Light
15 HP
Small dmg. 1 foe
Powerdrain
Dark
5 MP
ATK Down. Foes
Defboost
Light
6 MP
DEF Up. Party
Petraburst
Earth
10 MP
Medium dmg. 1 Foe
| Class | Element | Type | Level | HP | MP | Exp |
| --- | --- | --- | --- | --- | --- | --- |
| Common | Earth | Beast | 28 | 318 | 132 | 325 |

| ATK | DEF | MGC | RES | SPD | LCK |
| --- | --- | --- | --- | --- | --- |
| 29 | 27 | 24 | 26 | 24 | 24 |
List of Skills

Skill
Element
Cost
Effect
Gaia Buster
Earth
20 HP
Small dmg. 2 Foes
Hyper Sense
Earth
10 HP
DEF Up. Self
Purge
Light
8 MP
Null -Stat. Party
Chomp
Dark
10 HP
No DEF Medium dmg. 1 Foe
Death Breath
Dark
30 HP
Large dmg +Faint. Foes
Petrablast
Earth
20 MP
Medium dmg. Foes
Devil Children Fire/Ice BookEdit
| Class | Element | Type | Level | HP | MP | Exp |
| --- | --- | --- | --- | --- | --- | --- |
| Common | Earth | Zombie | 20 | 222 | 88 | 175 |

| ATK | DEF | MGC | RES | SPD | LCK |
| --- | --- | --- | --- | --- | --- |
| 21 | 19 | 17 | 17 | 18 | 13 |
| Class | Element | Type | Level | HP | MP | Exp |
| --- | --- | --- | --- | --- | --- | --- |
| Common | Earth | Beast | 28 | 318 | 132 | 325 |

| ATK | DEF | MGC | RES | SPD | LCK |
| --- | --- | --- | --- | --- | --- |
| 29 | 27 | 24 | 26 | 24 | 24 |
List of Skills

Gaia Buster
Curl Up
Dekunda
Round Bite
Death Breath
Mamagnus
Devil Children Messiah RiserEdit
| Number | Element | Weakness | Type | Level | HP | MP |
| --- | --- | --- | --- | --- | --- | --- |
| 46 | Earth | Wind | - | 23 | 210 | 90 |
| ATK | MGC | DEF | RES | SPD | Quick | Call | Spell |
| --- | --- | --- | --- | --- | --- | --- | --- |
| 22 | 9 | 4 | 2 | 15 | 26 | 17 | Mamagna |